Time: The Year of Our Lord, 1976
Place: Hot Springs, Arkansas.
Once upon a time, when I was practically jailbait oh-so-young and full of promise, I fell madly in love with a darkly handsome mustachioed gospel singer who swept me off my feet and into an ugly green Pinto by proposing marriage down on one knee, holding a ring box from the jewelry department of Service Merchandise while I was sick in bed with a stomach virus and trying not to vomit.
I said yes.
It doesn't get any more romantic than that, folks.
Since I was so very artsy and such a unique little snowflake, I obviously couldn't buy a wedding dress off the rack– oh no, I had to "design" my very own special TOTALLY TORI WEDDING DRESS. And by "design," I mean searching through every copy of Brides Magazines I could find looking for my dream dress (that I knew I wouldn't be remotely able to afford) and then figuring out how to copy it on the cheap.
The dress I chose was a vision in white chiffon, with sheer layers of handkerchief points edged in French lace floating over a slinky little slip dress. Gorgeous.
**Kind of along the lines of this: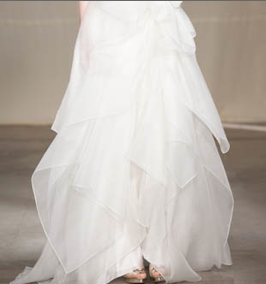 So, of course in order to assert my budding independence and prove what a rugged individualist I was, I proceeded to change almost everything about it. My taste may have been questionable, but my vision was strong.
I heard about a dressmaker in Little Rock who could reproduce a dress from a photo without even using a pattern, so I called her up and made an appointment. Clutching my torn-out magazine page to my still perky bosom, I knocked on her front door and tried not to look too obviously shocked and appalled when I realized that apparently her specialty was not so much wedding dresses, but big (and I mean BIG) glitzed-out, sparkly pageant dresses. Yeah. Honestly, you couldn't swing a cat in her sewing room without hitting something that was bedazzled within an inch of its life. To be fair, she looked a little askance herself when she realized that I wanted to convert that elegantly frothy little number on the magazine page into something… a bit "funkier." "Earthier." "Hippie-ish." Perhaps even "folksy."
(Think 'Stevie Nicks at a hoedown.' An 'Amish wood sprite.' Something like that.)
The dressmaker, bless her, bit her tongue and started taking notes. I wanted to change the color from snow white to ecru, the fabric from chiffon to India cotton gauze, the French lace edging to hand-tatted crocheted trim; also, lose the train and forget about a veil– I dreamily pictured just a few well-placed sprigs of fresh baby's breath tucked in my hair.
Don't roll your eyes at me, IT WAS THE 70's!
Well, darned if she didn't come through. She produced the dress to my exact specifications, with nary a sequin or spangle in sight. To my 20 year old eyes, it was a one-of-a-kind piece of ivory perfection, and when I stood in front of the big mirror at my last fitting, I felt beautiful. I didn't even mind that she had fashioned a rosette out of extra fabric and pinned it to the front of the dress– "I just thought it looked a little plain," she said sheepishly.
And so it came to pass that on Halloween night, Oct. 31, 1976, the dress and I floated down the aisle and into my future.
The End
OK, not really 'The End.'
Fast forward 15 years: I wore the dress again when Russ and I renewed our vows at a lovely little ceremony in front of the fireplace at our house on Hillside Drive, surrounded by family and friends, and presided over by my brother Matt. Mom and Dad surprised me by driving up from Arkansas, and our manager Zach even flew in from LA. We held our 'reception' at a local bowling alley, and invited a whole gang of friends to join us. We set up a wedding cake on a card table by the snack bar, and though I changed out of my wedding dress before bowling, I did keep the veil on. (This time around I opted out of the baby's-breath-in-the-hair look and wore a beautiful 1920's lace veil, crowned with tiny wax orange blossoms.) It was a memorable night, made even sweeter in retrospect because I now know, though I had no idea at the time, that after lots and lots of trying and failing I was actually just the teeniest bit pregnant with Madi Rose…
(Note to reader: Please grasp that the salient point here is that I FIT INTO THE DRESS 15 years later. And no, I didn't try it on to see if I did this time around, mainly because a) I have eyes and b) gravity.)
So here we are in 2014, and lo and behold my modest little 70's-licious bridal dress was just part of a "Wedding Dresses Though the Decades" exhibit at one of my favorite places, Oaklands Historic House Museum in Murfreesboro. Isn't that cool?! Here's the poster: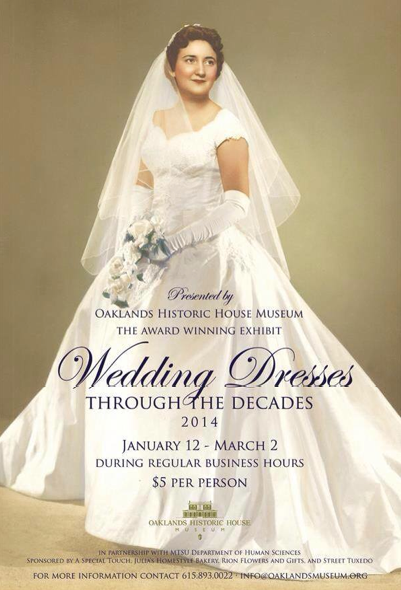 It was such an honor to be asked to participate in this year's event, and though we were in and out of town during most of the time the dresses were on display, we finally made it in to see them on the very last day. My sister Carolyn and her husband David were still here, so they went with Russ, the girls and I. The staff at Oaklands is really extraordinarily good at what they do, and are really fun to hang out with as well, so we thoroughly enjoyed ourselves. I took lots of pictures, so prepare yourself– but hey, when's the next time I'm going to get the chance to have a dress in a museum, right?
(Unless, you know, they decide to do a Moon Pie Queen Museum or something.)
(Which is not a bad idea, really. Just saying.)
**My humble little homemade, er, custom designed dress surrounded by satin, lace, trains, veils and all manner of beautiful bridal related frippery.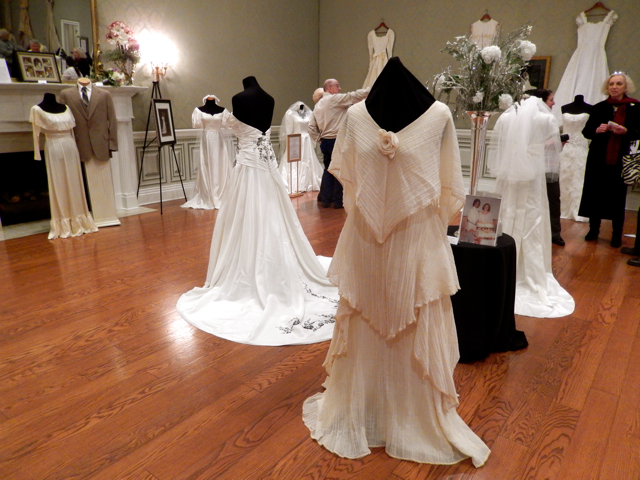 **The blushing bride and groom, then and now (37 years later.)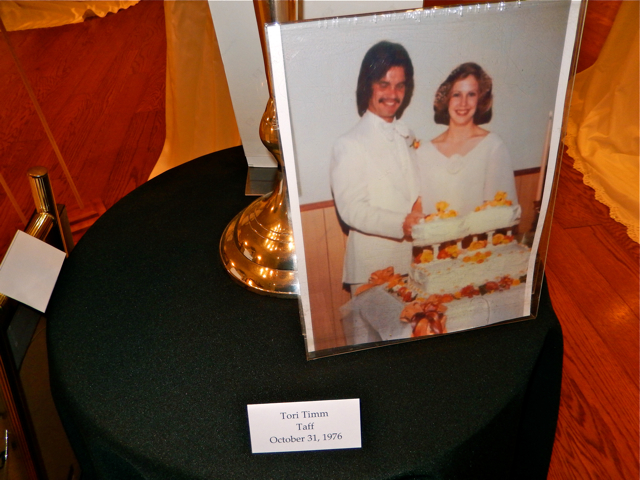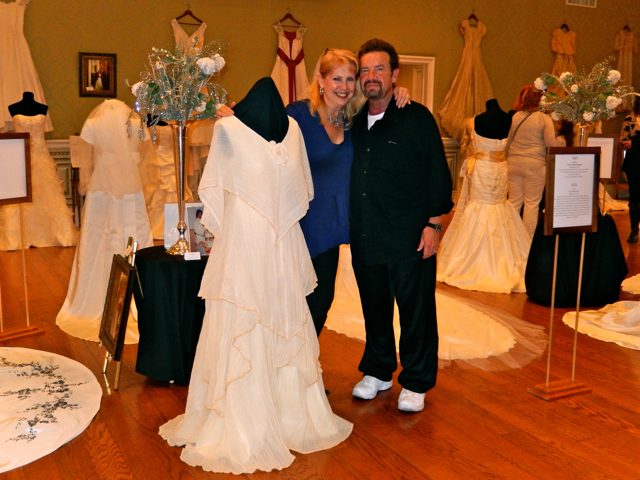 **Our story– every bit as romantic as the proposal: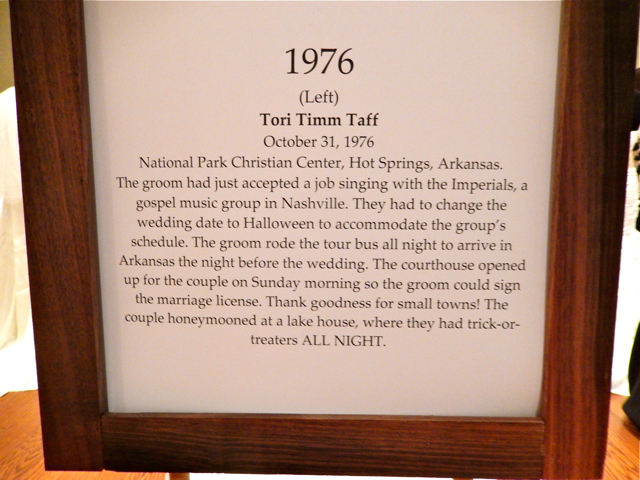 **My sister Carolyn checking out my dress and silently thanking the heavens that they're not displaying the bridesmaid dress I made her she got to wear– which was a lovely ivory dress topped with a custom designed handpainted sheer silk CAPE with a COWL. (Think a little something like THIS, but in soothing fall colors…)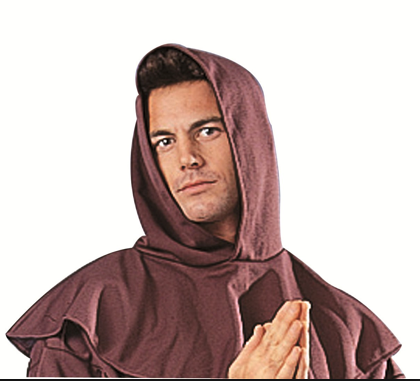 Shut up. I was going for fashion forward/artsy, remember?
**Anyway. Here's Carolyn: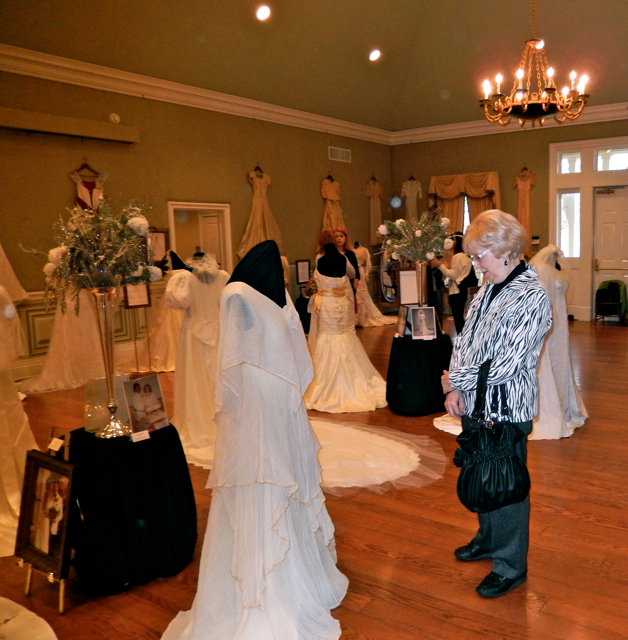 **And here are some other highlights from the exhibit: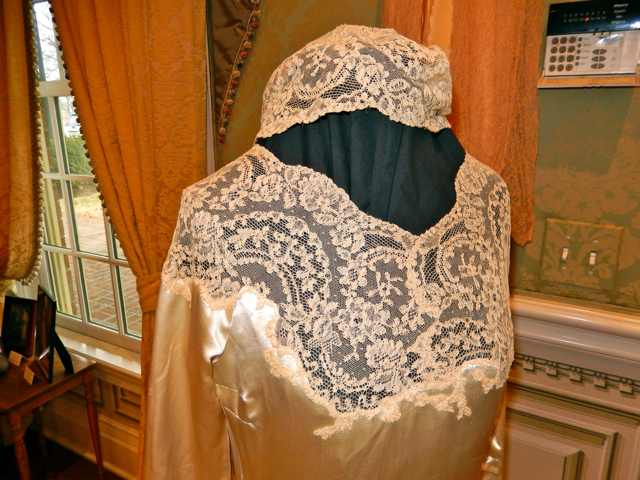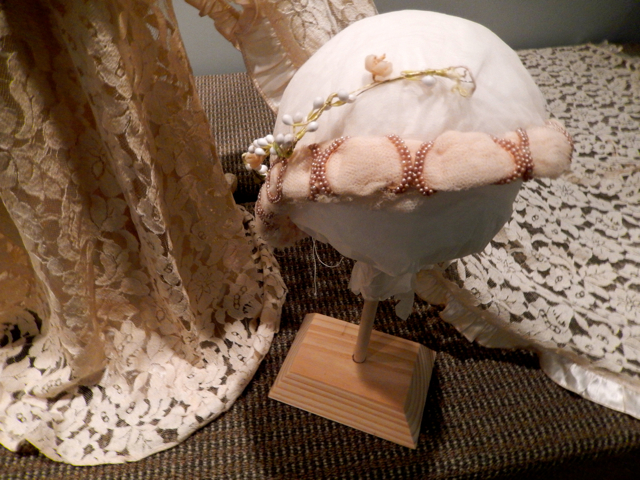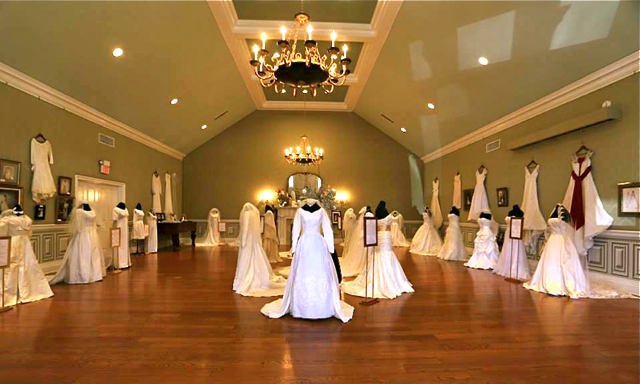 **Carolyn fell in love with this dress– very Downton Abbey, don't you think?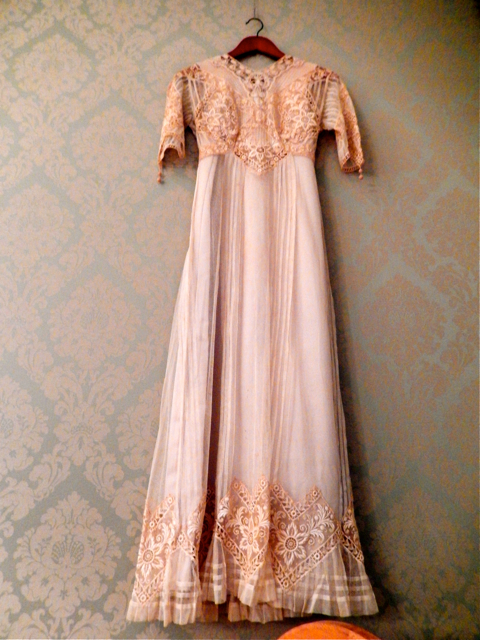 **Madi Rose and I are always immediately drawn to the antique underwear section.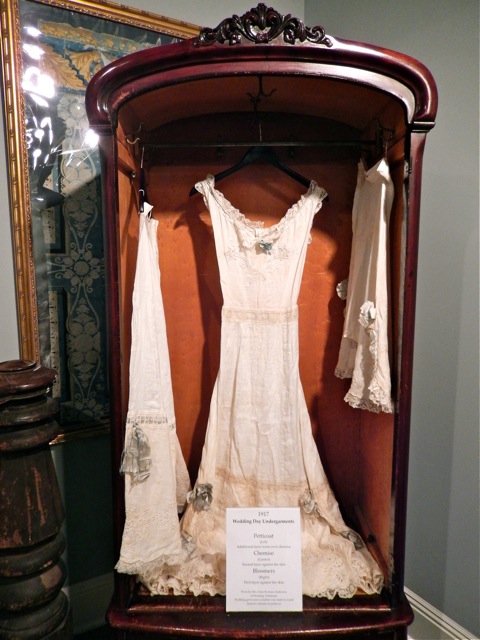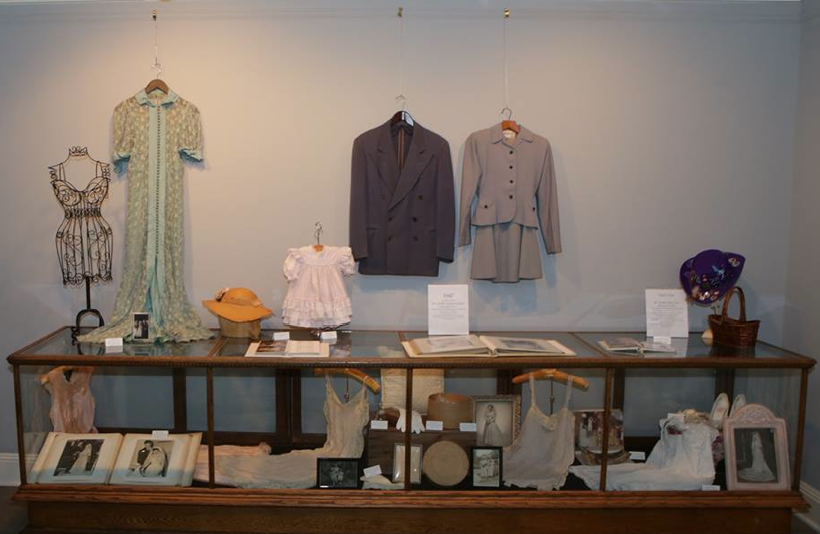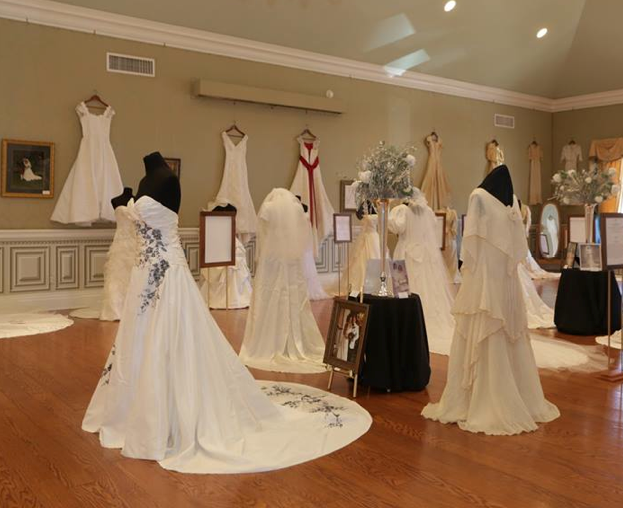 So, thus ends my little wedding dress' great adventure!
Now, tell me about YOUR wedding dress…