I seem to be in the middle of a season of loss around here.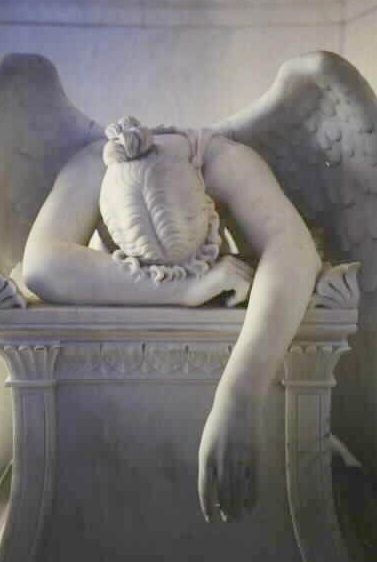 Maybe it's my age. Is mid-life (Why yes, I do plan on living to be 114 so technically this IS my mid- life, thanks for asking) traditionally the time when a lot of really terrible things start happening to people all around you? I know that life can randomly serve up crippling blows at any age, but dang, lately it feels like some celestial referee somewhere should be blowing their whistle and calling a penalty for PILING ON. Seriously, enough already.
People I really care about are struggling really hard. I am helpless on the sidelines. (Again with the football analogies?) This results in the following whirling dervish of emotions:
**Still filled with sadness and compassion for the Yake family who lost their Emily in a car accident last month.
**Distressed by the news of a dear friend's cancer diagnosis. (NOT a death sentence, but definitely a life-altering event)
** Reeling from the sudden passing on Monday of music business friend Norman Holland.
**And finally,  I am trying to wrap my head around this horrible news from my longtime friend Crescent Dragonwagon: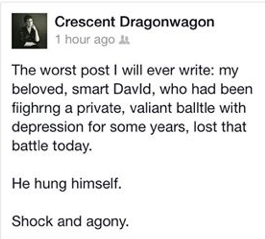 Russ and I met Crescent and her equally fascinating husband Ned sometime in the 80's when we stayed at their bed and breakfast in Eureka Springs. We maintained that connection for years, enjoying a comfortable 'couples friendship,' and were devastated when Ned was killed in a bike accident in November of 2000.  Crescent grieved intensely, but to the delight of all of us who cared about her, after several years alone she unexpectedly found love again with filmmaker David Koff.
They were a good match.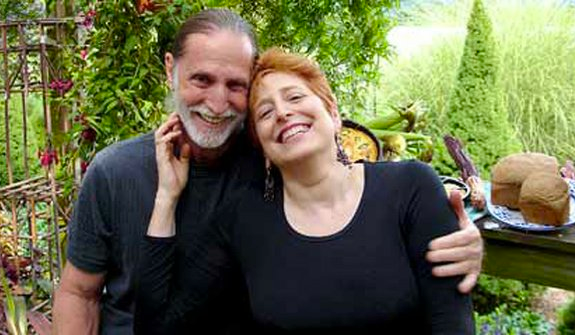 David Richard Koff (born 1939 in Philadelphia, United States) is an award-winning maker of documentary films, social activist, writer, researcher, and editor. His interest in social and economic justice has shaped a career largely spent exploring human rights, colonialism, resistance movements, racism, labor unions, and the oppression and exploitation of undocumented workers in America. However, he veered from political concerns long enough to write and co-produce the film, "People of the Wind" for which, in 1976, he was nominated for an Academy Award for Best Feature Documentary.
Crescent and David have been together for 12 years now, and lived in a 1795 farmhouse on 35 acres in Vermont until a recent bout with extensive damage caused by broken pipes forced them to move out while repairs are made. Crescent's mother, famed children's book author and editor Charlotte Zolotow  died in November, so they have been staying in her house in NY getting it ready for sale. But apparently for many years behind the scenes, brilliant, loving, kind David was fighting for his life against a deadly, devious enemy– clinical depression. The only way I can begin to make sense of what feels to me like an unforgivably selfish act is to realize that in the depths of his illness, David truly did not believe he had any other choice to make the pain stop. But I ache for Crescent, my sweet friend left once again to deal with the sudden, tragic death of her beloved– and this time, by his own hand.
Loss. I hate it.
I know it 's a part of life, it's inevitable, blah blah blah. But understanding that doesn't make me hate it any less.
Natural order of things. Ebb and flow. Roll with it. It won't always feel like this.
These are the slightly cliched, bumper-sticker truisms I've been telling myself lately, willing myself to believe them.  I'm not having a crisis of faith- I know who I am and what I believe. And the fact that Crescent and my recently diagnosed friend with cancer follow a different spiritual path than I do does not give me pause for a second as I lift them up to the God of my understanding and ask for his mercy, grace and comfort to surround and overwhelm them. It's all I know to do, because the fact that life and loss are intrinsically linked really sucks and leaning into something and Someone bigger than I am is my only safe harbor–even when it doesn't feel all that safe here in this dang harbor right about now.
But regardless of how smarmy this sounds, I want to say (write) out loud that I am deliberately and daily making a conscious choice to focus on the good things in my life– to find gratitude, to seek peace, to reach out and grab that "thing with feathers that perches in the soul" by its scrawny little neck and not let go. I truly understand that you can't "happy thought" your way out of a treacherous mental illness like depression, but I'm not really talking about depression right now.
I'm talking about learning how to navigate through the sadness that is all around us, all the time, as long as we are living here on earth, without getting lost in it. I'm talking about learning to accept the fact that the price tag for loving someone is the risk of losing them. But even though the human condition does indeed contain all of the above mentioned opportunities for despair, the God's truth is that it also contains unimaginable beauty and unspeakable joy. So I'm choosing to lean in, not pull away. I'm putting myself out there, knowing that sooner or later, beyond a shadow of a doubt, there will be more loss coming my way and there's not a damn thing I can do about it.
Because what's the alternative? There's not a place, or a person, or a religion that can guarantee us a pain-free life– I know, because I've looked. And for me, shutting down and refusing to care or engage so that I can protect myself from getting hurt isn't really an option. Or a life.
Because love, in all of its glorious, heartbreaking incarnations– is so absolutely worth it.
Let Evening Come
By Jane Kenyon
Let the light of late afternoon
shine through chinks in the barn, moving
up the bales as the sun moves down.
Let the cricket take up chafing
as a woman takes up her needles
and her yarn. Let evening come.
Let dew collect on the hoe abandoned
in long grass. Let the stars appear
and the moon disclose her silver horn.
Let the fox go back to its sandy den.
Let the wind die down. Let the shed
go black inside. Let evening come.
To the bottle in the ditch, to the scoop
in the oats, to air in the lung
let evening come.
Let it come, as it will, and don't
be afraid. God does not leave us
comfortless, so let evening come