Saturday was Daddy's birthday. (I thought.)
I started to write "would have been Daddy's birthday" since he is, you know, dead. But March 8 is still the day he was born, so even if he isn't here, it is still his birthday, right?
Except it isn't.
For some bizarre reason, during my entire adult life I have had a mental block when it comes to Daddy's birthday. Every dang year, with very few exceptions, I would call home on March 8th to wish my father Happy Birthday, only to be gently and patiently reminded that uh, his birthday was actually March 4. This happened A LOT, so much in fact that it became a joke between us, and a couple of times I did it on purpose– but then I would screw that up as well, and think that I was being cute by calling him on March 4 to wish him Happy Birthday as a joke, because of course his birthday was really March 8, AREN'T I HILARIOUS?! And Mom and Dad would both laugh and make jokes about me needing to see a doctor about my memory problems, ha ha.
And danged if I didn't do it again this morning. On March 5th I checked the date and thought, 'Wow, only three more days until Daddy's birthday. He would have been 98…' And I woke up Saturday morning all kind of solemn and wistful, and then realized that once again, the joke was on me– I had totally missed it! I hope Daddy is somewhere shaking his head and chuckling. And I wish I could pick up the phone and have my parents tease me about it one more time.
We're getting closer to the anniversary of both Mom (March 26) and Dad's (April 24) passing and according to what all of the books on grieving  tell me, that's always a hard time. It doesn't help that a few days ago I had the sad task of once again holding a pet in my arms while a vet put them to sleep– this time, it was our sweet Norman, the World's Rattiest-Looking Feral/Stray Cat. The night before, we had finally coaxed him into the house (OK, we actually just picked him up and CARRIED him inside) to spend the night, the one and only time he ever did, because he had a horribly large, scabbed-over/possibly-infected wound on his head that we had been treating, and also it was  reallyreally cold outside.
Norman was such a noble gentleman of a cat, with a sweet disposition that totally belied the fact that he obviously rumbled on a regular basis with other toms in the neighborhood (hello, head wound!), and appeared to be quite the rake with the ladies despite his hobo-like appearance. (Spay and neuter your pets, folks.) This summer when we first spotted him lurking around the edges of our yard (I swear to God the stray cats around here have some kind of underground railroad system– our house obviously has a secret symbol for "These Gullible People Will Totally Feed You" posted somewhere) it took us weeks of sweet talk and food to lure him onto the porch and finally allow us to pet him. But once he figured out that opposable thumbs = the ability to scratch behind his ears, he would greet us at the front door by lifting his front legs off the floor and aiming his massive, Norman-Mailer-esque head directly into the palm of our hand. He slept on our wicker furniture all summer, leaving a layer of dust and cat hair all over my lovely new patio cushions. His porch appearances became increasingly scarce as fall turned into winter, and we worried that he might have been a coyote casualty, though Russ did point out that any self-respecting scavenger would probably pass on trying to eat that raggedy little scrap of bone and gristle. Despite our best attempts to get some weight on him and add a little shine to his patchy, dull coat, Norman never did start looking any better, though he did gratefully devour anything we put in front of him (including cat vitamins and worm medicine.) I was secretly concerned that there might be something really seriously wrong with him, so when he showed up again on the porch–shy, way too skinny and sporting that nasty head wound– we welcomed him back like a returning hero.
The night we brought him into the house, he cautiously and thoroughly inspected the downstairs making his trademark quizzical-sounding, surprisingly girly little meows before settling in on a blanket we placed under the leopard print ottoman in the parlor. First thing in the morning, my sister Carolyn (she and David came up from Arkansas to stay in the house with Charlotte while Russ and I were on the Homecoming cruise) came down to check on him and found that he had had a couple of episodes of diarrhea which he attempted to hide behind a chair. Carolyn, by the way, is even more of a sucker than the Taff women for animals that no one else in their right mind would want– so of course, she fell in love with Norman at first sight. By the time I discovered yet another little accident thoughtfully concealed behind (and ON) my dining room drapes, it was obvious that we needed to take him to the vet for a complete work-up.
I did, and my worst fears were confirmed when they said he had tested positive for both feline leukemia and feline AIDS. "There's really no treatment for him," they told me, sadly. So after spending a quiet half hour in an examining room alone with Norman, lavishing him with love and ear scratches, I covered his mangy head with tears and kisses as the needle slipped in and he slipped away.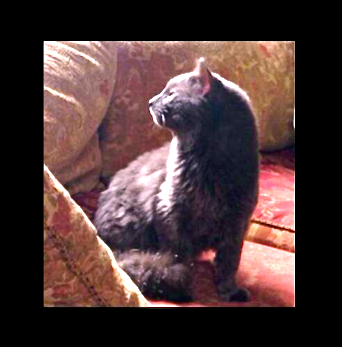 RIP, Normie.