Dang, I can sure write a snappy title, can't I? That right there is creative writing at its best.
So. Here's the recap part: Oh my gosh, we had SO MUCH FUN! Having Momma Lloyd and Beth, my sister Carolyn and David, my brother Matt and Carol, Char's friend Jess, our agent and friend John, 'Bloomr regular and friend Alyson, Madi's friend Cory, etc. all gathered here for the festivities made everything even better. Bright and early (for us) on a gorgeous, not-too-blistering-hot Saturday morning Russ and I headed over to Mayor Dennis and First Lady Carla's house (which is so over-the-top outrageous that it deserves its own post– which will totally happen!) and settled ourselves in the back of Carla's convertible with the Mayor at the wheel. We were joined by Josie, Valerie Smith's adorable daughter (who told us that she hasn't been in a parade since she was "really little") and we immediately unofficially dubbed her the 'Moon Pie Princess.'
**Here we are heading towards the Square– Josie is in the front seat, Russ is waving (best line of the day– at the start of the parade he bends down and asks Mayor Dennis, "So, Bell Buckle doesn't have any book depository buildings or grassy knolls I need to know about, does it…?") and we are surrounded by our RC Cola Secret Service honor guard. I am about to heave a Moon Pie (they only gave me the mini ones to throw, as they could tell by my over-enthusiastic attitude and lack of depth perception that there could be an ugly lawsuit if I were allowed to toss full-sized ones) in the general direction of the afore-mentioned John, who is busily taking pictures at the left edge of the photo.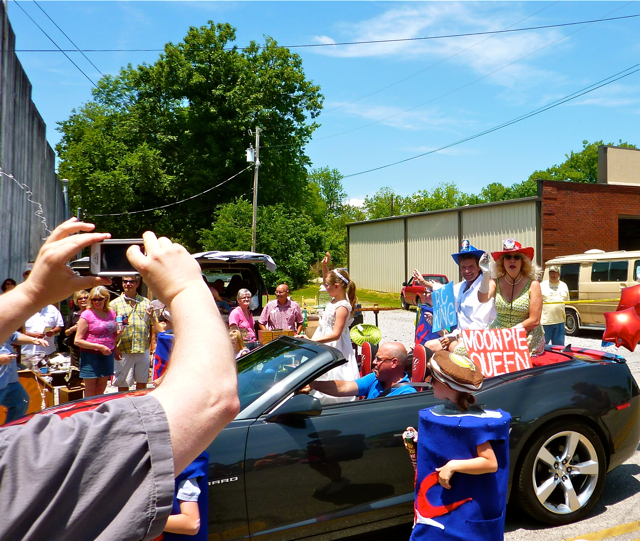 **This may be my favorite photo of the whole day.
OK, you guys know that Russ is an introvert trapped in an extrovert's career, right? He is just fine up on a stage in front of 20,000 people with a microphone and the spotlight in his face, but put him in a living room where he's forced to make small talk with people he doesn't know and his eyes quickly take on the look of a trapped fox with the hounds approaching. So agreeing to have all of the attention focused on him even for a very short time for something as lighthearted as being the RC Cola King was a S T R E T C H for the guy. The fact that he agreed to it in the first place is a testament to A) how much he loves this town and B) how little information I gave him on what exactly he was going to be doing. Hence, this photo totally captures what a good sport he was– it was just before we were to be crowned King and Queen, and his face says it all… He was wistfully lifting his eyes unto the hills and wishing he could get the heck out of there! Bless his heart.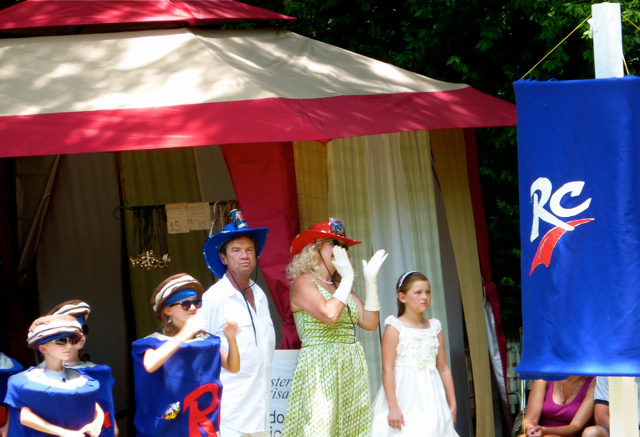 **What a trooper.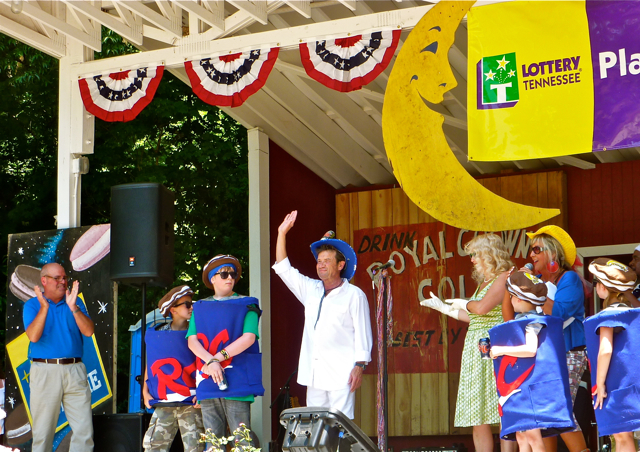 ** OK, he's starting to get into the spirit of things now: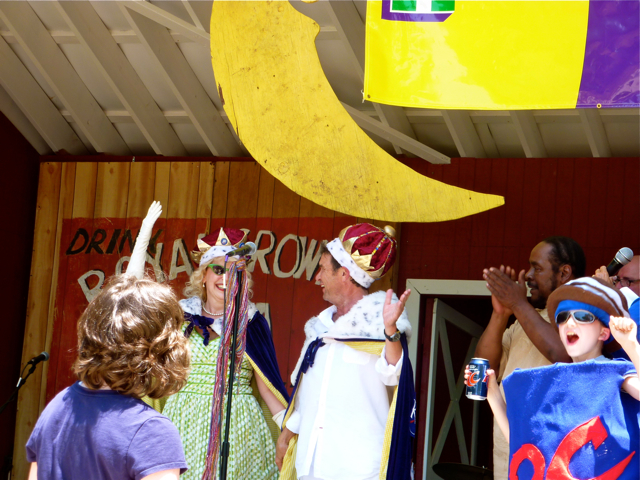 ** I'm not sure, but I think last year's Queen is trying to kill me here. Or she had trouble tying that big honkin' cape around me.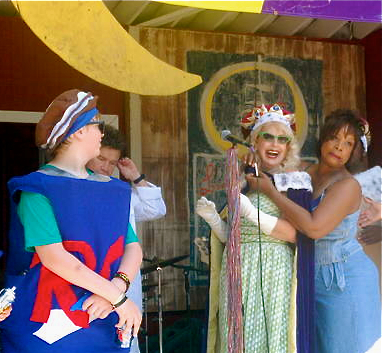 **My loyal subjects– that's Carolyn and David on the front row hay bale to your right, braving sunstroke just to be able to make fun of me in person. *dabs tear at corner of eye*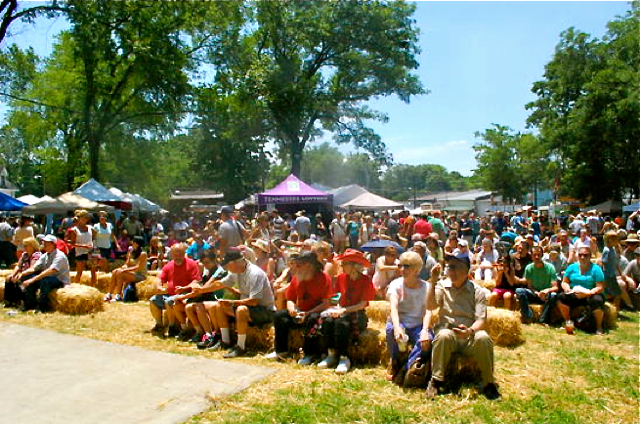 **One of our royal duties was to serve up the world's largest Moon Pie. They make this thing down in Chattanooga at the Moon Pie plant, and it is as fresh and delicious as you can imagine–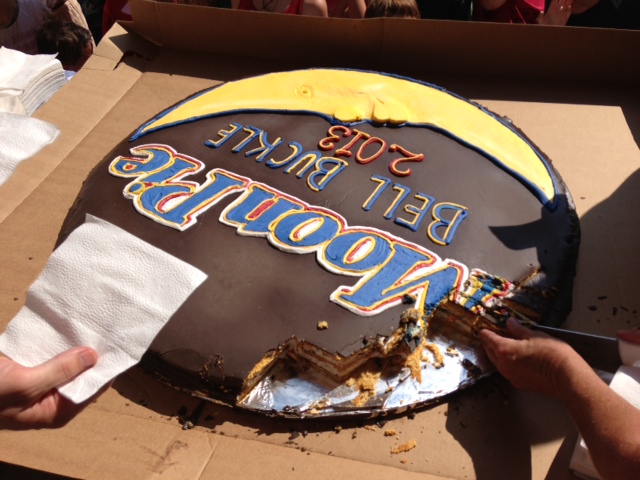 **And speaking of fresh and delicious, I'm going to wrap this up by showing you yet another example of why we love living in this town. On Saturday evening I get a phone call, and Mayor Dennis says, "I really love to cook and one of my specialties is fried chicken. I'm going to be frying up a big batch tomorrow and wondered if you'd like me to drop some off for you guys…" I said YES so fast I think I scared him, but come Sunday morning, true to his Mayoral word, this is what was hand delivered to our house: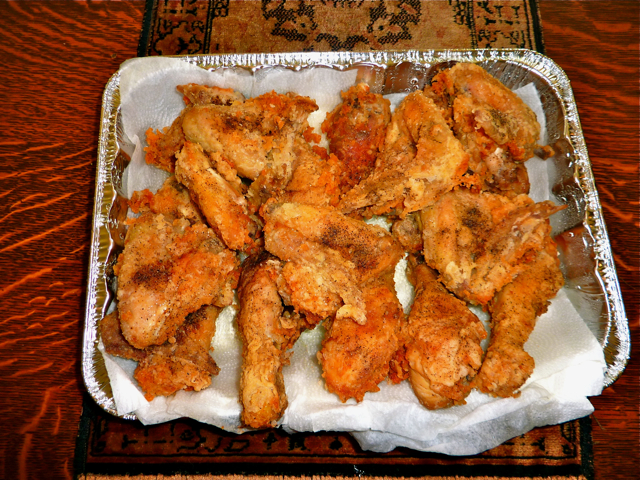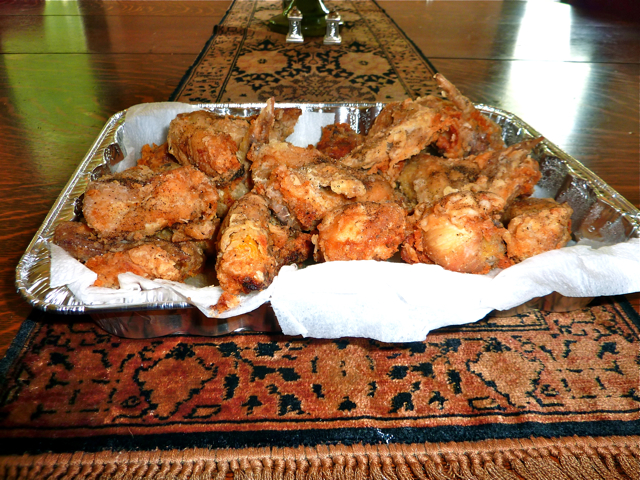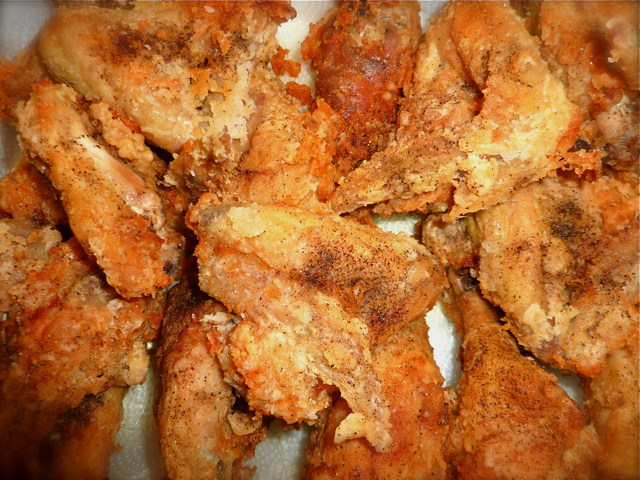 (It's GOOD to be Queen…)