It was a balmy, sunshiny 55 degrees today, the kind of gorgeous weather that makes you understand why…
OK, originally I finished this sentence by writing "… druids worshipped nature and ran around naked hugging trees and whatnot." But something about that didn't sound right, so then I Googled 'druids' and found out they were not so much about the hugging of the trees, they were kinda more about the sacrificing of the humans, so I had to come up with another reference and then I thought, "Pagans! I bet that's what I meant, pagans!"
But Wikipedia pretty much rained on that parade too, though they did start out by saying the Latin definition of pagan was "rural, rustic, of the country"– which fit, because HELLO, Bell Buckle!– but then it went on to talk about Stonehenge and worshiping idols and stuff, and seriously, who has time for that?
So I guess what I meant to say is that today's weather makes me want to run around naked and hug trees, but the important thing to take away from all of this, is that I DIDN'T.
So, it's safe to keep scrolling down. You can go ahead and look at the pictures.
Here's what my walk today at the Deerwood Arboretum looked like. (Where do you guys like to walk?)
**It's all paved and everything. Depending what time of day you go, you can more or less have the whole place to yourself.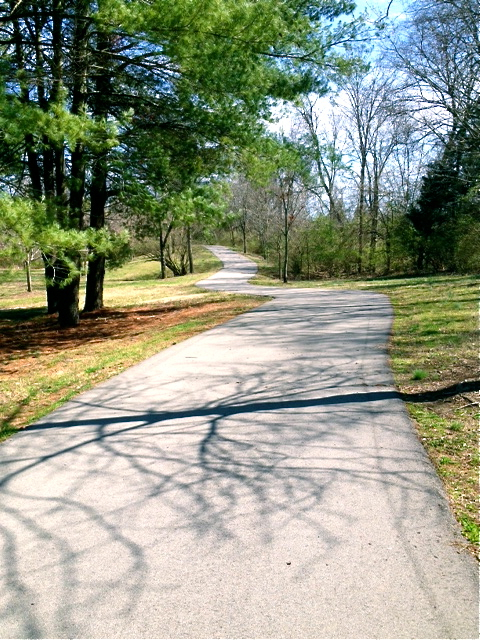 **Are these crocuses? They're always one of the first signs of spring around here, sometimes they even beat the jonquils.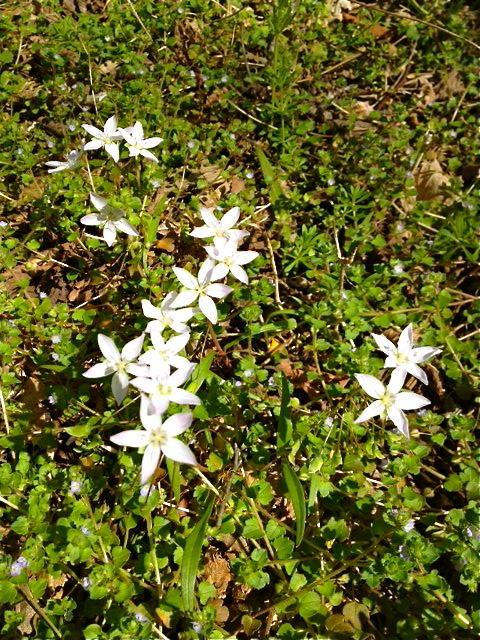 **The path winds down beside the Little Harpeth River. Where I come from, this is what's known as "a creek," but whatever, Tennessee.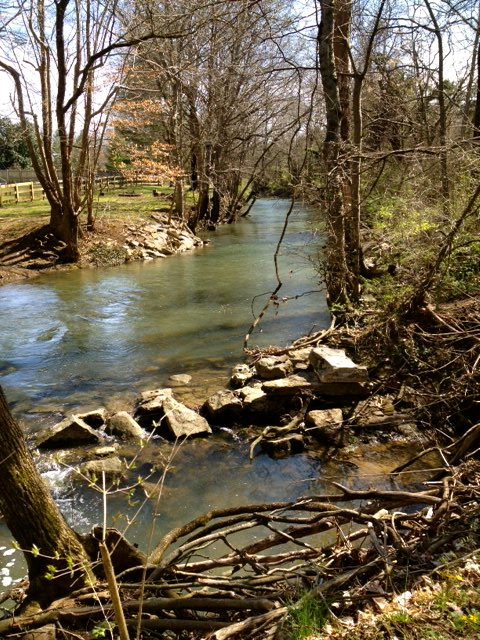 **Because it's an arboretum, they have all the tree species helpfully numbered and identified, you know, in case somebody ever puts a gun to your head and says, "QUICK– tell me what a green ash looks like!"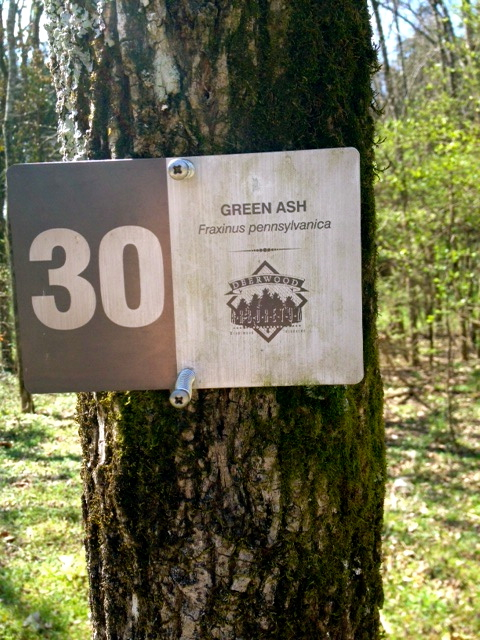 **Beautiful carpet of blue… somethings. Anybody? I used to know this stuff.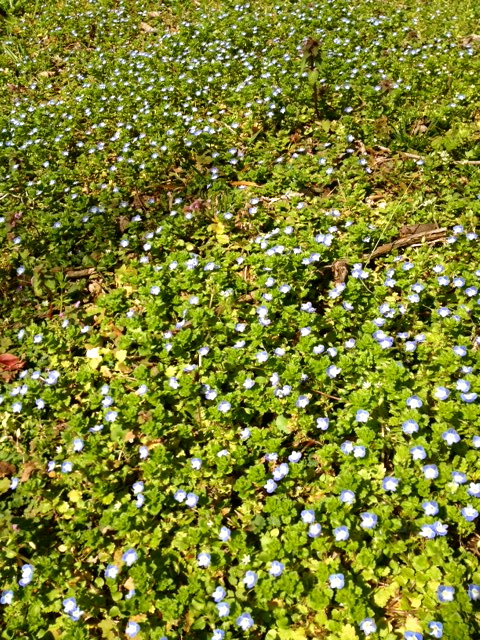 **Squirrel's nests always look like they are rather haphazardly put together. This one does appear to have two stories, however, which is kind of impressive when you think about it.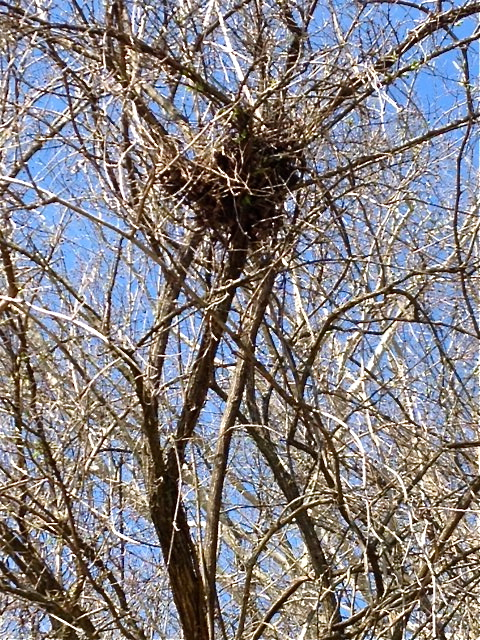 **Ya'll remember a couple of years ago when my back got all jacked up and I had to stay in bed for-stinking-ever? This is EXACTLY what I looked like when I tried to walk, I am not even kidding.
**They also thoughtfully provide benches so you can sit quietly and think deep thoughts. Or meditate. Or in my case, try to do a mental inventory of my refrigerator and figure out if I have enough corn beef and cabbage leftovers from our St. Patrick's Day dinner to feed everybody without having to stop by the grocery.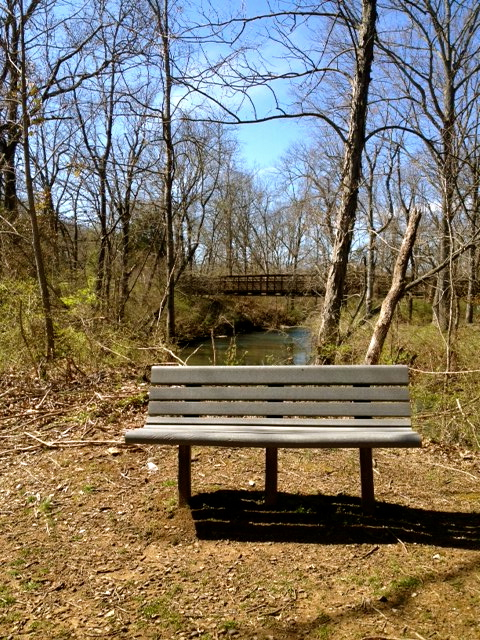 **Yeah, I can make it work, leftovers it is– I'm outta here!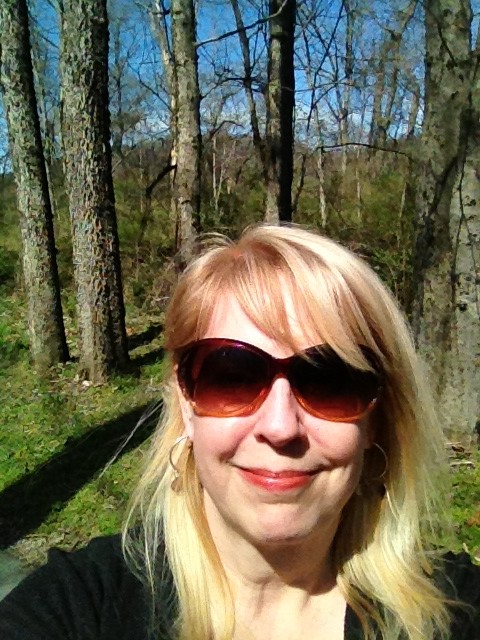 (See? TOTALLY wearing clothes.)