I don't want to be immodest, but I'm pretty much the Queen of Googling.
Seriously, I can flat-out GOOGLE, ya'll. Any time somebody says "I wonder if…?" or What is the…?", I am already hitting Enter before they can finish the sentence. On my laptop, on my phone, doesn't matter; I can glean useless information as quickly as  I can establish an internet connection.
Google combines so many of the things I love– exhaustive facts, endless details and lots and lots of information about things most people (but not me) couldn't care less about. I think I may have missed my calling, because deep down I have the heart and soul of a hardcore nerdy researcher of some kind.
Here's an actual example of just a few of the things I have Googled in the last couple of days:
Victorian Aesthetic Movement
Redmond, Washington vacation rentals
Sushi train restaurant, Nashville
Gasolier chandelier
Viking 30″ gas range reviews
Taxidermied peacock for sale
Sestinas
How to build a bookcase surrounding a fireplace
Salmon with feta and capers recipe
Tamara de Lempicka
An eclectic list, wouldn't you agree? But what you don't see represented here are the hundreds, nay, THOUSANDS of Google bunny trails I happily hopped down during every one of these searches. See, "Victorian Aesthetic Movement" led me to "vintage aesthetic wallpaper" which led me to "William Morris stencil patterns book by Mary MacCarthy" which led me to "Arts and Crafts design rugs"… and next thing you know I was searching for where I could buy a stuffed peacock, which frankly, even concerns ME. People who think all social media is a time-sucking waste of time need to spend a couple of hours watching me Google my way across the wide continuum of the internet, and they will never badmouth Pinterest again.
My Google Face: Here I am taking a break from opening presents on Christmas morning to search for something lip-bitingly important while wearing Charlotte's wolf hat: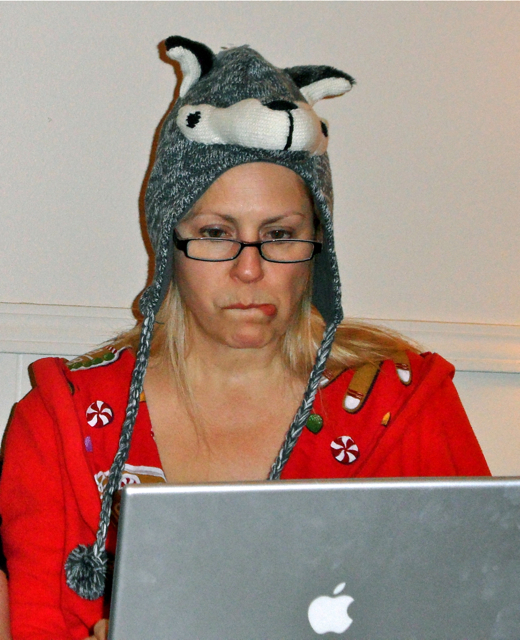 And honey, do not even let me commence about my penchant for Google-doctoring. I am an absolute whiz at looking up barely noticeable symptoms and becoming decisively convinced that you have a rare form of something or other. I have scared the pants off of every member of my family so many times that they now quit talking and look guilty when I walk into the room while they are asking their dad for some Tylenol–because they know I will be ON IT as soon as they tell me what's hurting! (By the way– in my experience, on the internet all medical roads ultimately lead to either Lyme disease or a brain tumor, just so you know. You're welcome.)
So… am I alone in this? Do any of my beloved readers regularly partake of the wonders of Google?
And what did YOU search for this week?!