I'm kind of a naturally optimistic, glass-half-full kind of person.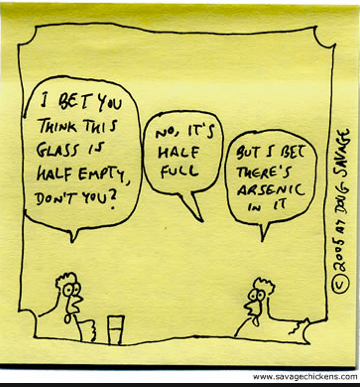 That's not a pat on the back, that's just the nature I was born with, or maybe inherited– in my family we call this characteristic the "Don Timm 'Just Happy To Be Here' Personality." Charlotte has it, as do several other of my brothers and sisters and nieces and nephews. It's not like we are constitutionally incapable of feeling morose, or angry, or depressed or fearful. It's just that we usually don't stay there too terribly long because our default setting is pretty much "This too shall pass" and "Tomorrow will be better" and "Isn't it great to be aliiiive?!"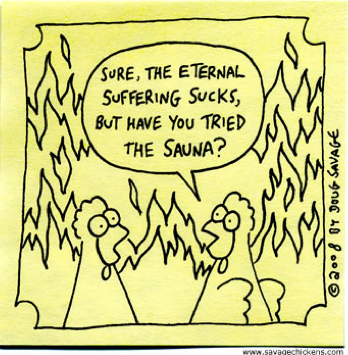 That's not a bad way to live, most of the time. But what I've discovered about myself (can't speak for the rest of the family) is that when I do sink down into sadness, if I don't acknowledge it and then take steps to talk or cry or write it out, it has a tendency to hover around my head like a swarm of gnats, or perhaps more accurately, settle around my shoulders like a cloud bank. And I've also learned that what seems to trigger that state of mind more than anything else is loss.
I don't do loss well.
Which kind of sucks, since life is chock full of it! Big or little, permanent or fleeting, natural or unnatural– the one thing I can be guaranteed in this world is that every passing year will bring more loss.
The other bad news about loss is that when I experience one, it seems to trigger the sense-memory of every loss I've ever had, which can turn into one giant tsunami of sadness if I don't get a grip. This time of year is particularly tricky because it is leading up to the anniversary of  Daddy's death; and even though his passing was peaceful and surrounded by love, I still miss him every day and fervently wish he was still here.
But death isn't the only way loss manifests itself. Change is a kind of loss, too. It signifies the ending of something– and even if there is something good (or better) that comes as a result, it is still at least temporarily, The End. My natural tendency is to kind of blow past that part and just try to hurry up and embrace the new beginnings, but I'm learning to take some time to mourn those endings, acknowledge the losses, and honor the (normal, predictable and ultimately temporary) sadness that comes with the territory. If I consciously make the effort to do that, it seems to keep those hovering gnats/settling clouds (to mix metaphors– which I do, ALL THE TIME) from taking up residence in my heart.
So with that in mind, here's the current laundry list of loss/change I'm dealing with, as well as the simultaneous positive side of what these things will eventually bring into my life. If you're in a "share with the class" kind of mood today, why don't you leave your own particular list in the comments? I'm not really in misery, but I DO love company!
OK, here goes:
* We're selling our house and moving an hour away from everything familiar…
BUT– We'll be starting a new phase of our lives in a wonderful house in one of my favorite little towns. Also, hello, I've been wanting to do this for a year!
*The girls are growing up, moving on… Our relationships are changing… I can't protect them from their own losses and pain… It will never be the way it used to be…
BUT– I get to have a front row seat in the lives of two fascinating, soon-to-be women that I love with all of my heart. They are resilient. We are entering a new phase of our mother/daughters relationship.
*I'm getting older. So is Russ. We have to face the reality of limitations– physically, financially, emotionally… The future feels uncertain…
BUT– We have each other. We're both still pretty cute. The future has ALWAYS been uncertain, we were just too young and stupid to know that! And God has never failed us yet.
*Sometimes it feels like Mom is already gone– because of her hearing issues, she can't use the phone and we don't talk every other day like we used to… I miss her presence, her opinions, and her unflagging interest in whatever was currently going on in my life…
BUT– She's still here! We can still go visit her, and make her laugh and let her know how much we love her. She is safe and living in a lovely place that she has (for the most part) accepted and appreciates. She still gets (and makes) the jokes!
* Life is too risky. Friendships, pets, people and possibilities can all die right in front of you…
BUT– I might as well embrace the risk, because history has proven over and over again that NEW friendships, pets, people and possibilities are being born every day.
See? Obnoxiously half-full!
OK, your turn. What's currently on your list?