(See what I did there? Don't worry, I think I'm out of knee/hymn puns. Probably.)
Well, the patient is currently gently snoring away in the parlor-turned-recovery-room that Maddie Rose and Charlotte set up for him downstairs. I just peeked through the crack in the big wooden pocket doors, and I would have opened it wider to get a better look, but those dang doors creak like you wouldn't believe. He was definitely breathing though, so we've got that going for us. The girls brought down one of the antique twin beds from our guest room, and set it up against one of the sofas, and placed our leopard pattern ottoman close by to hold all of his meds, water bottles, Cokes and coffee- yeah, they may have sawed off the ends of his leg bones, but that's not gonna stop the boy from DRINKING COFFEE, for crying out loud.
Russ did really well yesterday, which is why they let him go home from the hospital. He doesn't start outpatient physical therapy (heretofore referred to as PT, because it's shorter and I'm lazy) until tomorrow. My sweet Brad Pitt-lookalike nephew Josh, who is also a physical therapist (heretofore referred to as PT-ist, because See Above), has already called the place Russ will be going to in Shelbyville for his therapy and given them the heads-up to welcome him with a ticker tape parade and delicious snacks and possibly a confetti cannon. Also, he pre-screened the staff and tracked down a couple of Gaither fans, so basically Russ is all set.
Update: He's up! He went to bed really early, around 9:00 pm, and just told me that he didn't even wake up to take any pain meds all night– which sounds impressive to me, but upon reflection (and the look on his face right now) may not have been such a good idea… However, he just took them with his COFFEE, so relief is on the way. Say what you will about our many-surgeried Russ (gall bladder, rotator cuff, benign adrenal tumor, *blah di blah blah I may have forgotten a few*), the boy is a dang quick healer. He's sitting up in a chair now watching the pope address congress and it appears all is well in his world.
I'll leave you with this photo and this thought: I don't know how or why that whole 'long, baggy shorts for guys' thing came into fashion, but can we all just agree that they are not a good look for most guys, (up to and including Justin Bieber) but most especially for men who are, shall we say, a certain age with tiny bird-like legs who just had knee replacement surgery?
Because seriously, Russ kinda looks like somebody let all of the air out of an NBA player and gave him a walker.
Behold: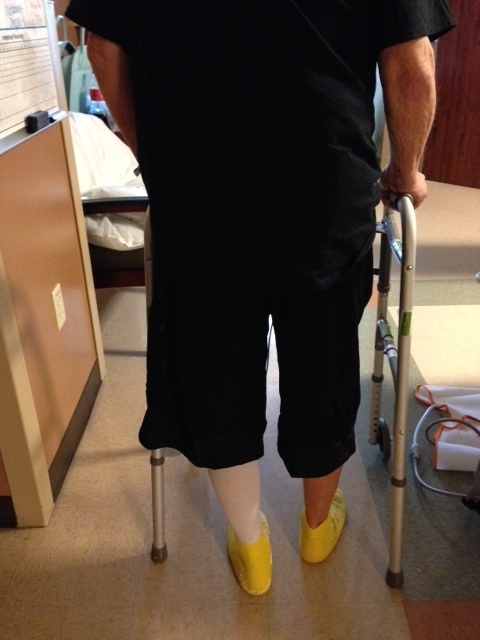 (I rest my case.)