Hey! I'm over here! *waves both arms over head*
Yeah, I know– long time, no write. I'm sorry, I suck, forgive me, mea culpa. I have time management issues. And moving? Is HARD, ya'll!
Settling into the Buckle has been idyllic and lovely as well as crazy busy. The boxes… Aye yi yi, THE BOXES! Remember how I told you guys we had waaay too much crap? Well, after a massive (and successful– thank you, Michael Taylor Estate Sales!) moving sale we still have a POD that's only about halfway unpacked and a storage unit that frankly, I'm askeered to go look at– I'm kind of delicate that way, you know. I'm prone to swoons. I guess there might be yet another sale in our future, though I don't think I can get away with calling it an 'estate' sale again. I'm thinking more like, "Please Buy All Of My Leftover Crap Sale." Marketing, people– it's called marketing.
We continue to be delighted on a daily basis with our new/old house and our town. As I told Russ, "Yes, I realize this is the honeymoon phase, but hey– I like honeymoons! I'm going to enjoy every minute of this honeymoon!" I'm dying to share some photos with you of our progress, but the problem is that every picture I take of some new improvement (We hung paintings! We put up our chandeliers! We filled up two bookcases!) always has some big honkin' unemptied box or stack of miscellaneous odds and ends lurking around the edges of the photo, which bums me out so much that I don't post it. I think I'm just going to wait until I have at least ONE unobstructed shot of ONE completed thing… and hopefully that will be before Jesus returns.
Everyone has been so warm and welcoming. Russ and I have gotten in the habit of taking a stroll around town almost every night after dinner, and we are now starting to match up which people go with what house, which dog belongs to what family, and who owns that way-too-enthusiastic rooster I hear every morning when I have my coffee out on the porch. It's so much fun to stop in and say Hi to Billy at Phillips General Store, grab a latte at the little coffee shop, and go pick up my mail at the Bell Buckle Post Office– which actually CLOSES FOR LUNCH every day, I am not even kidding. Yesterday I walked down to the town hall (located between the Cafe and an antique store) to pick up a building permit for the fence we're putting up in our backyard.  A couple of Sundays ago we visited the Bell Buckle Methodist Church, and enjoyed the service so much– lots of friendly folks there, too. I've been invited to be on the Arts Council and to join a dinner club. That's what life in the Buckle feels like– home.
So, until I've got some good pictures of our house to share, here's a little taste of the town from our friend Billy Phillips, who has lived in Bell Buckle all his life. He's giving a little tour of the General Store, and also the Bluebird Antiques and Ice Cream Parlor that his mom and dad own:
Don't you just love it?! We sure do. In fact…
Bell Buckle has embraced us so completely, I guess it is time to make an official announcement– and I fully expect all of you to be suitably impressed, so please arrange your faces into an appropriate expression of "OH MY GOSH!!!!" Ready?
Here it is: Russ and I are going to be the King and Queen of Bell Buckle's own RC Cola and Moon Pie Festival this year!
That's right. You are now reading the blog of the upcoming Moon Pie Queen, who is married to yes, the RC Cola King.
Behold: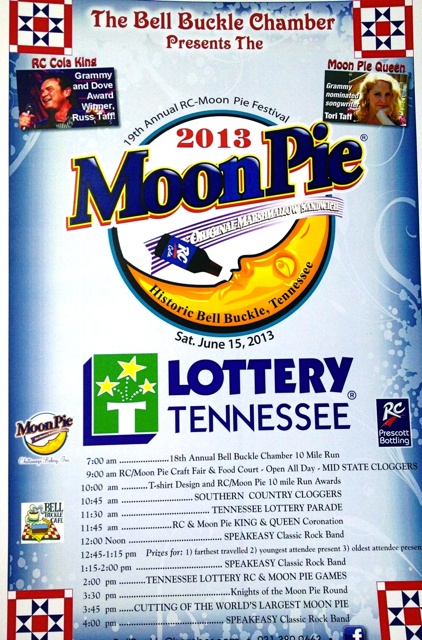 Practice your curtseys, folks– I'm planning on milking this for all it's worth.
You may hereafter refer to me as Your Royal Heinie.
(I'll keep you updated on all the doin's– apparently there's a parade, WOO to the stinkin' HOO!)
If you'll excuse me, I have to go practice now…