Well, since I have come to the inevitable conclusion that our new/old house will not be "done" any time in the foreseeable future (if ever), I decided to quit waiting for that to happen and just get over myself and post some photos. Plus, I want some free decorating help, so you know… it's all about the outsourcing.
Without further ado– or any ado at all, actually– here are some pics from our new life in the Buckle–
**This is the view as you walk thru the front door into the entry. The parlor is straight ahead, the staircase is to the left through the columns. (Yeah, I left my computer on the sofa. Oops.) (Also, see those beautiful flowers on the table? The Nintendo company sent those to me on my birthday, since I'm one of their brand ambassadors, how sweet is that?! Nintendo is my new boyfriend.)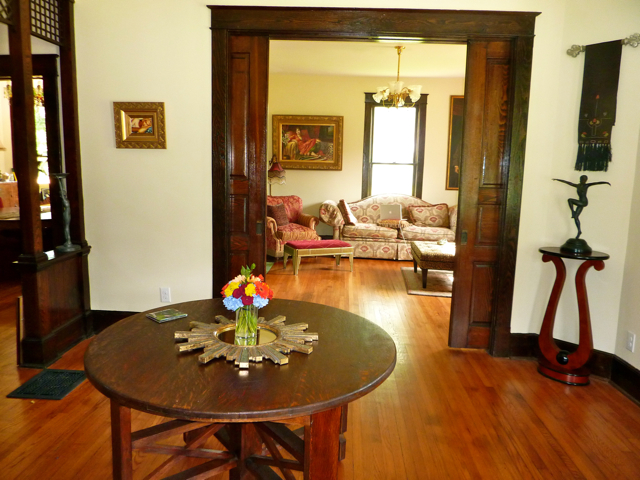 **Before we even bought the house I spent months and months searching for the perfect light fixture for that newel post. I did my research and scoured the internet as well as antique shops in about 4 states before finding this one in Nashville– Russ surprised me with it on our anniversary last October. I just love my newel post lady! Our fabulous carpenter/handyman/electrician and friend David secured it to the post and then ran wiring up from the basement and hard wired it with a switch on the back. I usually leave her on all day.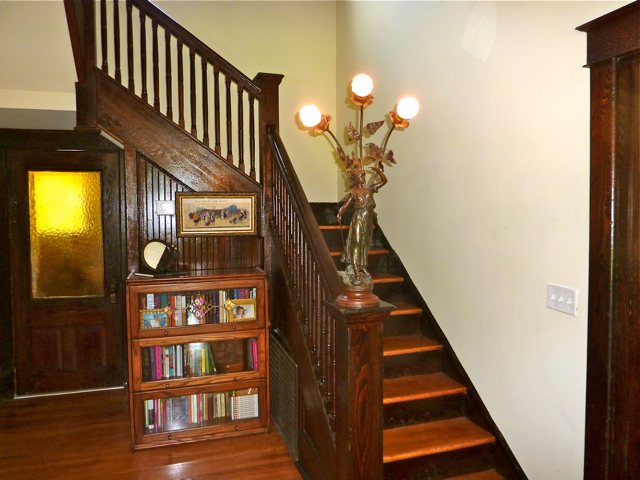 **View from the staircase, back towards the front door. This fretwork is one of my favorite things in the house. I expected the usual Victorian gingerbread scrolls and spindles, but our 1905 house is classified as 'late Victorian/early Arts and Crafts' style, and this is one of the Craftsman touches. I was so happy when I found the entry table because it matched the fretwork so perfectly.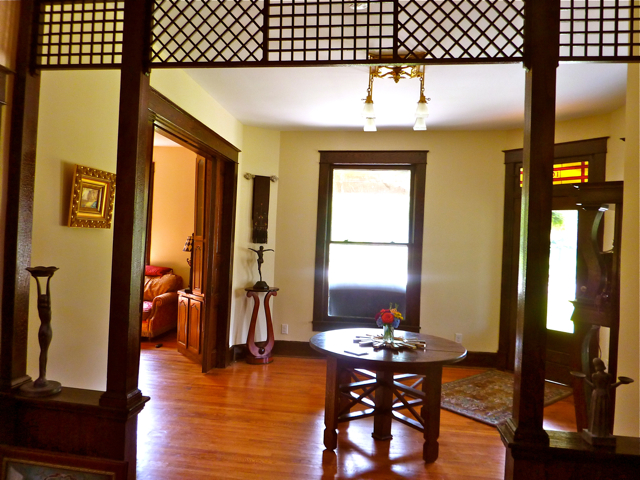 **Another one of my favorite touches– pocket doors! I feel very Gone With The Wind- fabulous when I fling them open with a grand flourish…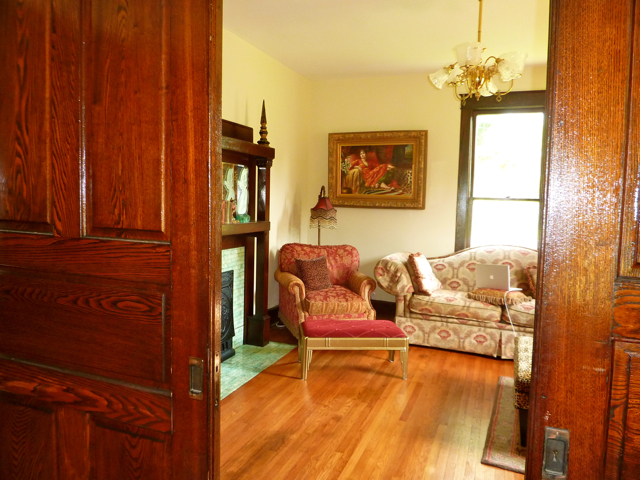 **Another original feature are these cool old registers: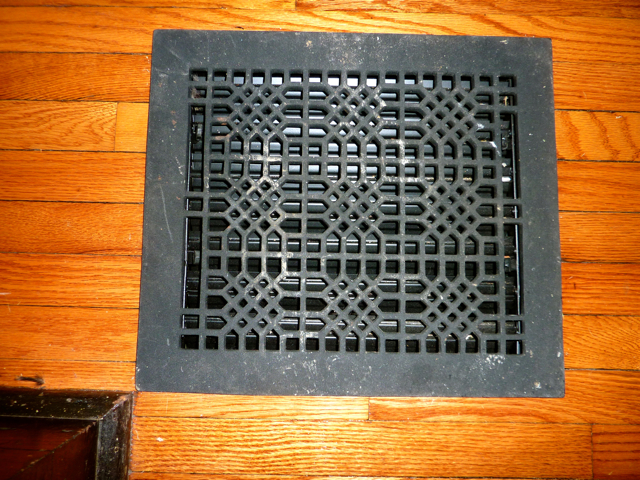 ** This is the scene of one of our favorite new pastimes, a little thing we like to call 'porch-sitting with intermittent car-waving and occasional episodes of copiuous napping." We are getting REALLY GOOD AT IT. This is just one side of the porch, and we still have some further decorating to do. Personally I would really prefer the look of a porch swing instead of that glider, but hello, we already had the glider. Plus it lends itself really well to the copious napping aspect of porch-sitting because it actually folds flat and makes a bed.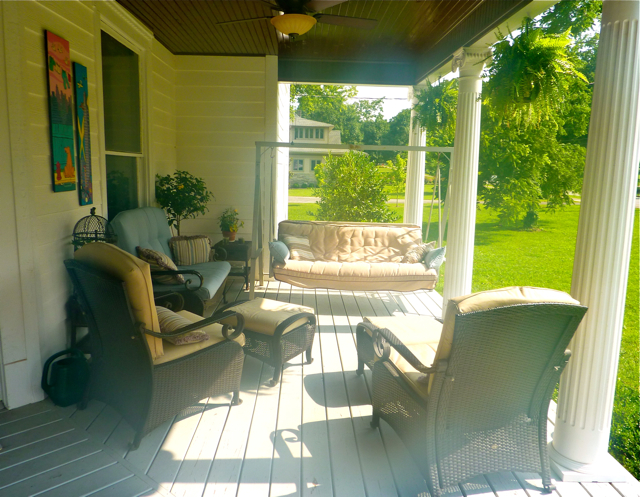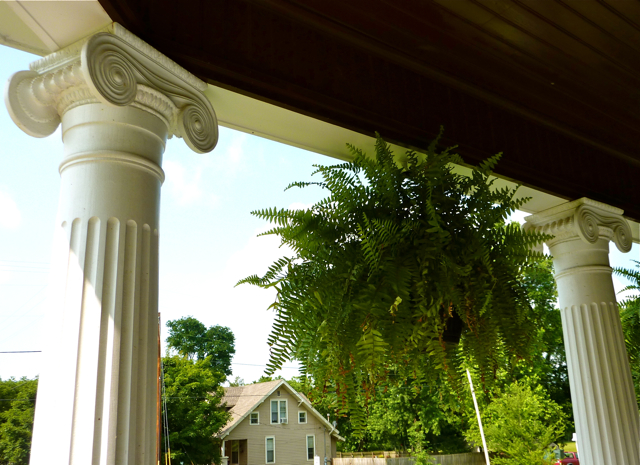 ** Here's Russ doing some sittin' and coffee drinking. I can totally tell by the look on his face that he is right on the verge of waving at a car.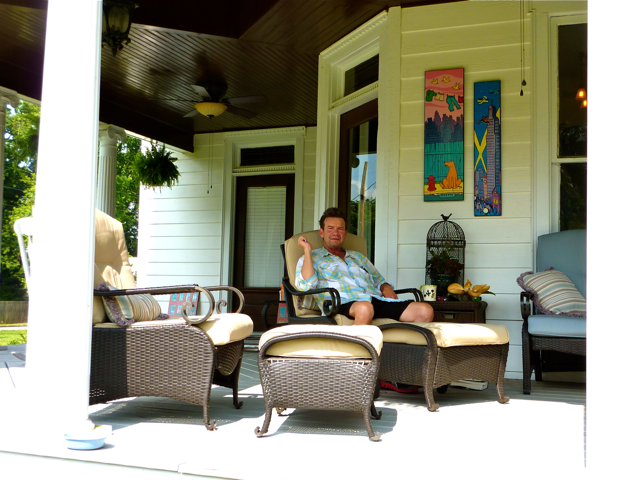 ** Our front sidewalk. Could we all please take a moment and murmur a silent prayer that I won't kill those beautifully symmetrical boxwoods? …. Amen. Thanks.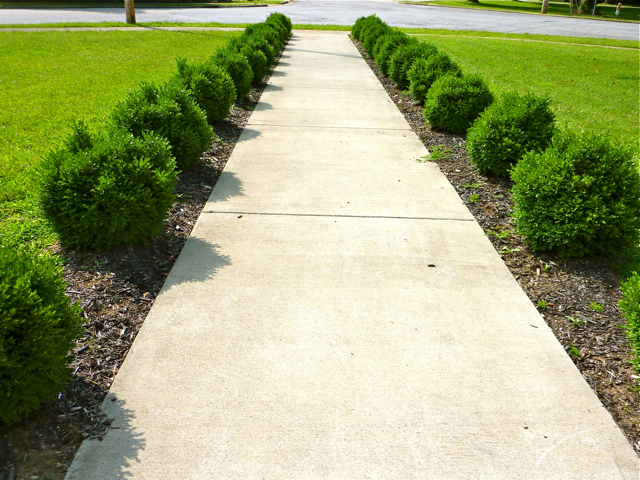 **The infamous Porch Cat– or P.C., as we call him. Or her. I haven't actually gotten all up in his/her personal business enough to fully determine which. (But I'm thinking it's a her.) P.C. is incredibly affectionate, and immediately winds around my legs as soon as I come outside to the point of tripping me up on a regular basis. She also leaves a thin grey veil of cat hair on every piece of our porch furniture which makes me sneeze my head off, which then causes her to give me a disgusted look and jump down and stalk under the glider where she flops over and pointedly turns her back on me. That's a bit of a 'tude, considering she's a freeloader– we have no idea where she actually lives, but from the very first day we moved into the house she has spent about 75% of her time on our porch. The fact that we have fed her and keep fresh water out there for her might have a little something to do with it.
**OK, all of you tree-huggers out there help me out– is this a black walnut tree? We're trying to figure it out.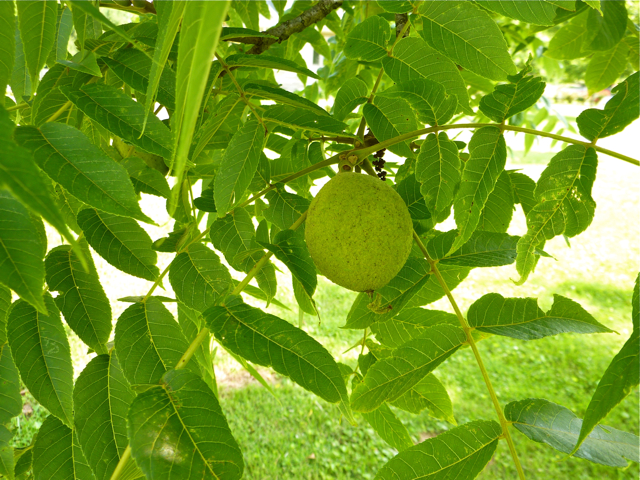 **This is our side yard with our new fences. The picket fence section is for the dogs, and the privacy fence encloses what I pretentiously call 'the courtyard' but at this point it's really just a backyard. I have big plans for that space involving all kinds of things like flagstone and brick walkways, a wisteria-covered pergola, fruit trees and a fountain– very "Secret Garden." I may be in my dotage before it ever happens, but I plan on spending the wintry months this year poring over seed catalogs and garden layouts and daydreaming of spring planting…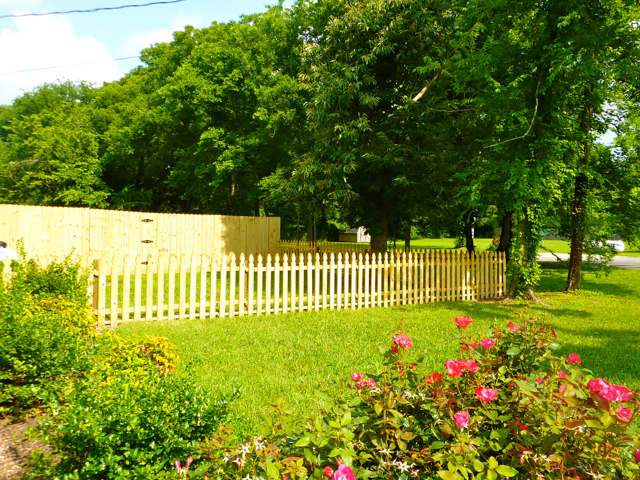 **This is how the dogs get from the courtyard to the picket fence area– and frankly, it took them a while to figure it out, bless their hearts. (Cute as bunnies, dumb as rocks.) And how do you like our propane tank?! Every house in the neighborhood has one, from the grandest Victorian down to the most modest cottage. Before we moved here, I was determined to have ours (we have a small one because it's basically just for the gas range) buried underground– no way I was going to have that unsightly thing next to my lovely home! Then we moved in, and, well, now I kind of love it– it's just the kind of incongruous, redneck-y touch that makes me smile. Because I'm weird that way. (I am going to plant climbing roses all over it, though.)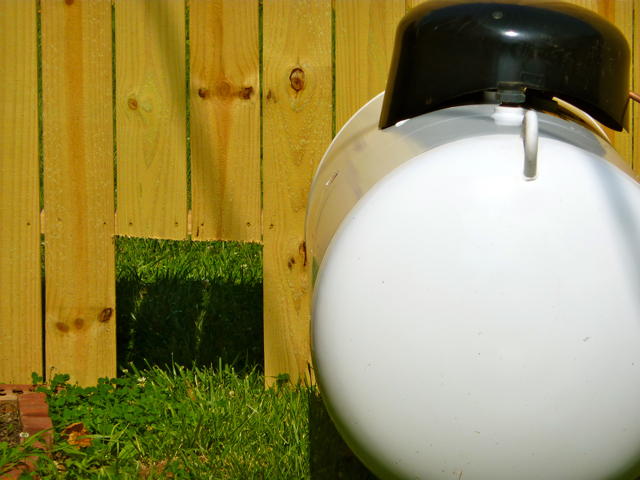 ** OK, this is the audience participation segment of our show: I need you guys to help me brainstorm and come up with some ideas for a color scheme for the exterior trim of the house. I love white houses, and I'm not planning on repainting the main part of the house, but there are some lovely architectural touches that are completely invisible right now because everything is white on white. Victorian houses are famously colorful, and Bell Buckle boasts some wonderful 'painted ladies' scattered throughout the town– pink, turquoise, red, yellow, periwinkle, etc. But when I look on the internet or in the books I check out of the library, I'm not coming up with many examples of white houses with colored trim, so I'm having to try to picture in my mind what it would look like– which makes me nervous! Here's one example of a typical Victorian color scheme for the house trim: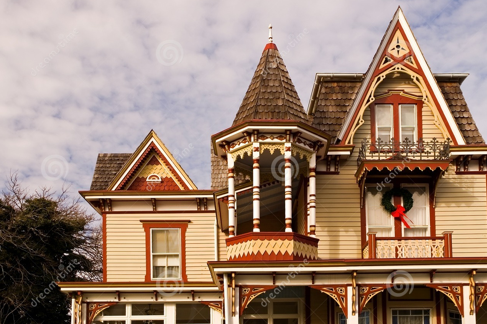 ** Now obviously my house does not have all of that ornate gingerbread, and as I said we are keeping the main body painted white, but I would love to come up with a three-color palette to highlight the trim details on the gables, under the eaves and around the windows. Here's an example of the house trim I want to accentuate: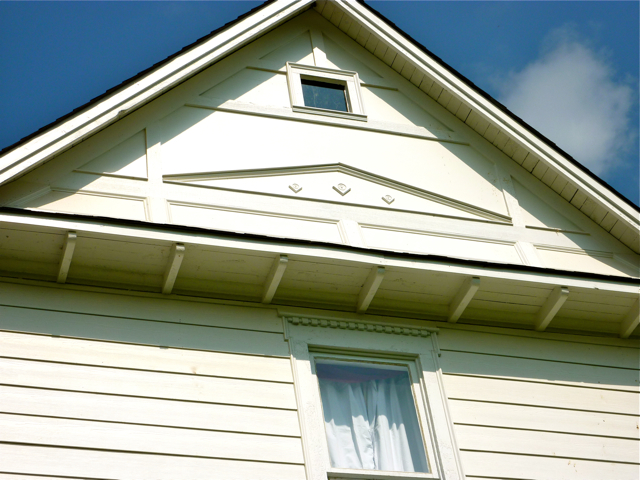 (The way the sun is hitting the side of the house makes it look a little light yellow, but it is actually all white.) See? I could paint a lot of little details! Inside the window frame, those little diamond accent thingys, the space between the eaves… There's definitely room for me to tart things up, don'tcha think?
I've thought about a soft butter yellow and a pale mint green accented with a slightly darker lavender… Or bolder trim colors, like peacock blue, emerald green with gold highlights…
I dunno. What do you guys think? Weigh in, please!
** I'll leave you with these two shots: The first one is of a guy I see almost every day, rolling down the sidewalk, often leaning back and steering with his knees, almost always shirtless– just a visual image of one of the many quirky people in a town that embraces quirky people! And the last one is of our front door knob– again, perfectly imperfect. To get it to catch and lock, you can't twist it into the usual upright position. The only way it will close properly is if you let it be slightly askew– kinda like us!