You know you live in Bell Buckle, TN when the BIGGEST NEWS OF THE WEEK is that you made Christmas cookies and got a new shed.
Though, to be fair, when the aforementioned cookies are part of a hallowed longstanding family tradition that happen to take three dang days out of your life and the new shed allows you to finally get rid of the POD that has been sitting in the driveway of not one, but two houses– well, that's kind of a big deal.
Also? The shed is adorable. Seriously, you are going to have such an extreme case of shed envy when you see it that you are immediately going to start frantically looking around your yard to see where-oh-where you could put one just like it– yes, it's just THAT cute. *holds hand up for the high fives that are sure to follow*
Here's what the @#%* POD looked like inside when it was finally emptied out and ready to be hauled away– picture cartoon hearts shooting out of my eyes: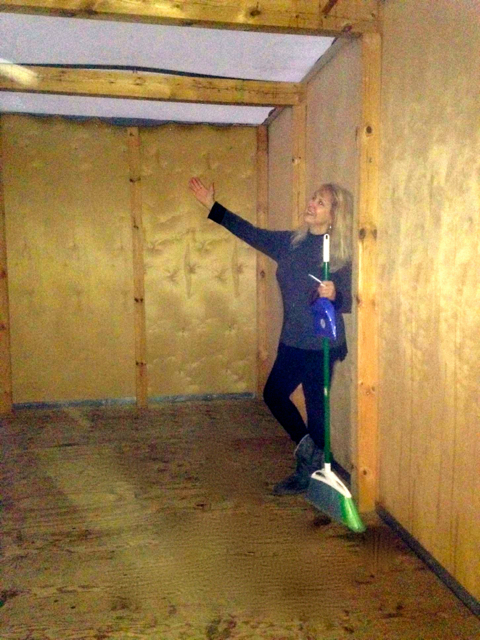 And no, we are most decidedly not going to add up how much rental $$ I have paid for the privilege of having that sucker in my driveway, because that way lies madness, sir. But we had to move some furniture out of our Brentwood house in order to show it and then this lovely old 1905 house has very little usable storage space, so hey, we did what we had to do, and anyway I can't put them biscuits back in the can, so JUST LET IT ALONE, OK?? (You have just been privy to the mental conversation that has been going on inside my head for the last year. Scary, isn't it? To quote Anne Lamott, "My mind is like a bad neighborhood, I try not to go in there alone.")
So anyway, here's the shed-among-sheds (from these great Amish people in Kentucky):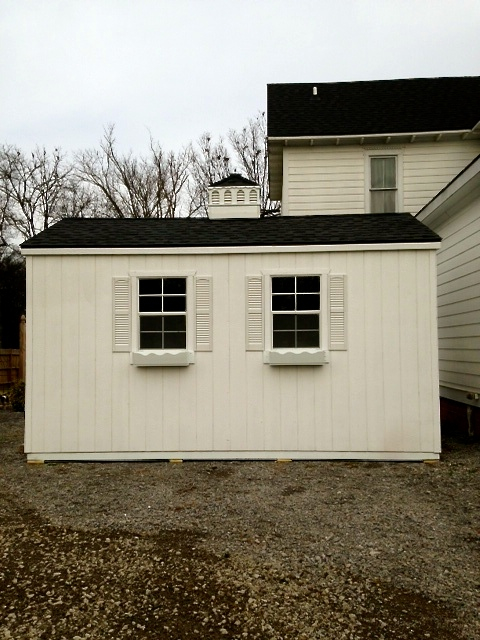 I KNOW, right?! And yes, those are window boxes, thanks for asking. And a cupola, too? Of course! *shyly digs toe in the dirt, tries to look humble* (I'm on the hunt for a peacock weathervane for it, so do me a solid and let me know if you stumble across one that won't require me to sell a kidney to afford– m'kay, thanks.)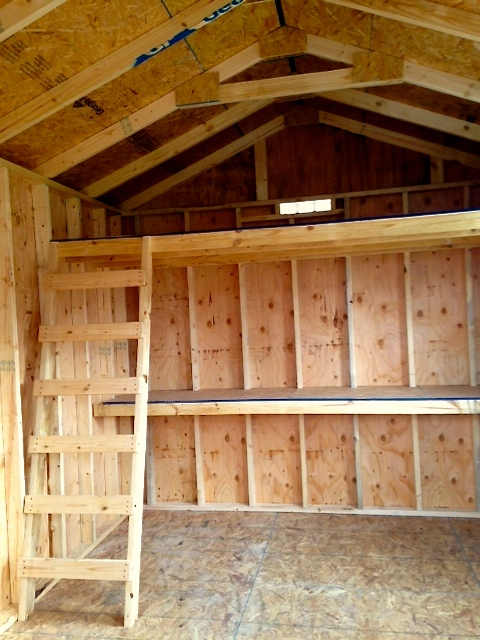 I'm having to be physically restrained from dragging a mattress up that ladder and sleeping in there. When I was a kid growing up on Midland Street in Little Rock, my friends Duddy and Doug and Bill and Phil and I had a secret club in my basement, but this is WAY cooler than our Kit Kat Klub headquarters. Not to mention…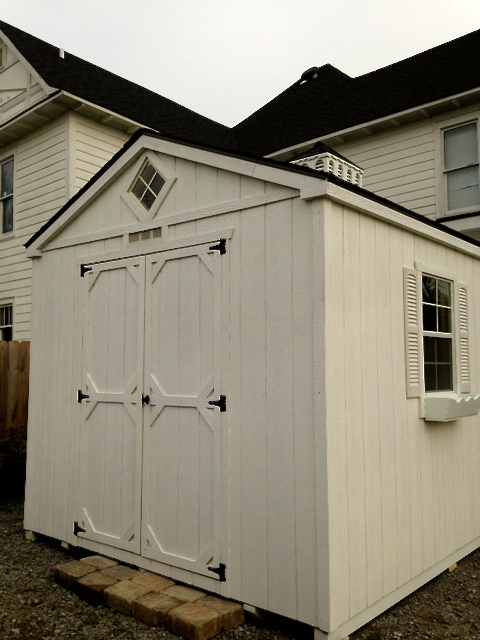 IT HAS A LITTLE WINDOW OVER THE DOOR! Ok, just one more: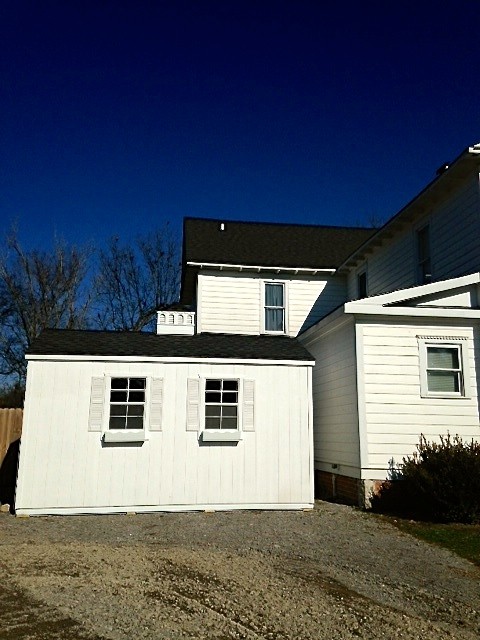 AND SEE HOW WELL IT MATCHES THE HOUSE??
OK, moving on.
In related news,  this week I also spent one whole day doing this: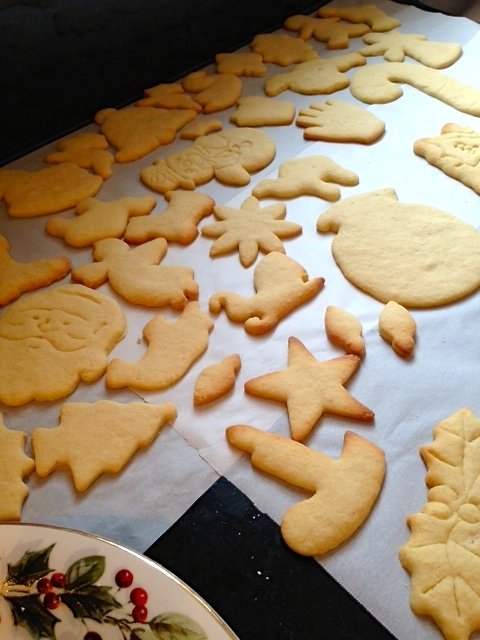 So that Madi Rose and I could spend two days doing this: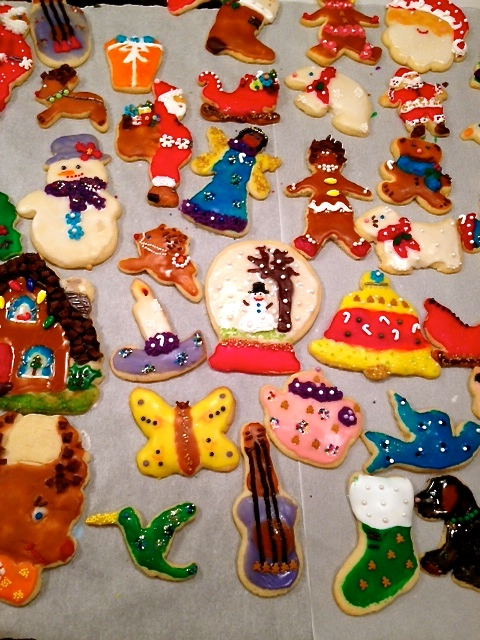 And in case you are silently wondering if I am posting all these photos just so you can ooh and ahh and leave all kinds of gushing comments like, "Oh my gosh, you are so creative and wonderful!!!"– you would be right. I need motivation, people, or this lovely tradition is gonna die on the vine. I have exactly twelve months to forget what a pain in my still-relatively-perky backside these ridiculous cookies are to make, so yeah, I'm not above manipulating you with pictures. (Hook and line– meet sinker.) (I might need a shot of me holding a sign that says,"Will Work For Compliments.") Aw, who am I kidding, I really do enjoy making these… At least the first couple of hundred batches… Then I kinda start swearing under my breath.
Let's see, what else.
Russ did a hometown concert in Hot Springs this week, at this lovely little theater on Central Ave., and in spite of a man-cold that make his voice just a wee bit husky, reportedly a good time was had by all. The girls and I couldn't attend because COOKIES, and also we were finishing up our shopping/POD clean-out/Christmas craziness– but our sweet friend Carolyn provided some photographic evidence for us: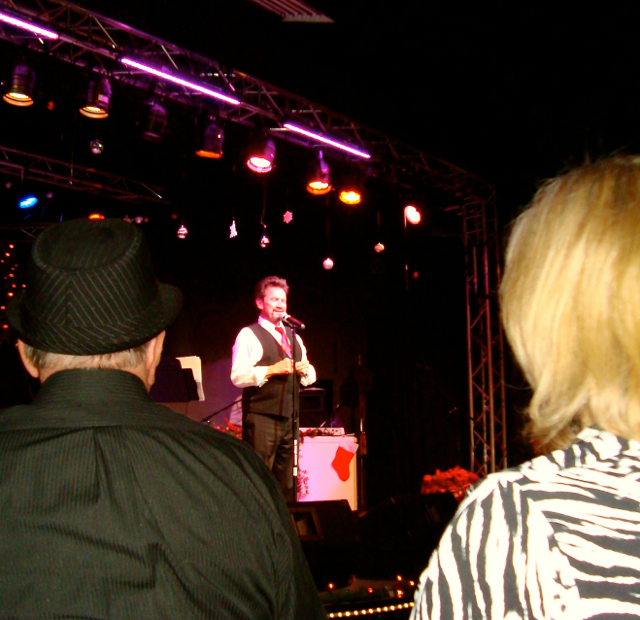 (That's the back of Daddy Bud and Kimmie Masino's heads. They look even better from the front.)
There will be more photos of this night to come– there are some really good ones– but I didn't have time to edit them all now because I was too busy editing pictures of The Cookies. It's called 'priorities,' people.
I'll leave you with a couple of random things that made me smile. I'm trying to get back to making Time-Suck Tuesday posts again, but my carefully hoarded stash of funny photos got completely lost during the Great Laptop Crash of May, 2014. (Note to self: BACK UP YOUR FILES MORE OFTEN.) So, enjoy these, and I'll start hoarding again soon.
(And tell me all about your holiday plans… We're heading home to AR tomorrow!)
I'll start with a couple of cat-related ones, because why wouldn't I: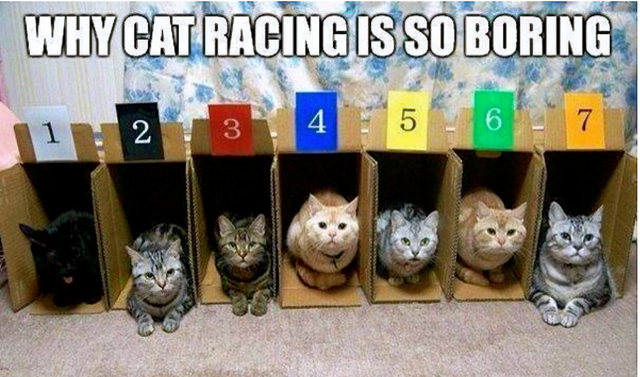 This is TOTALLY Catsy Cline's philosophy of life: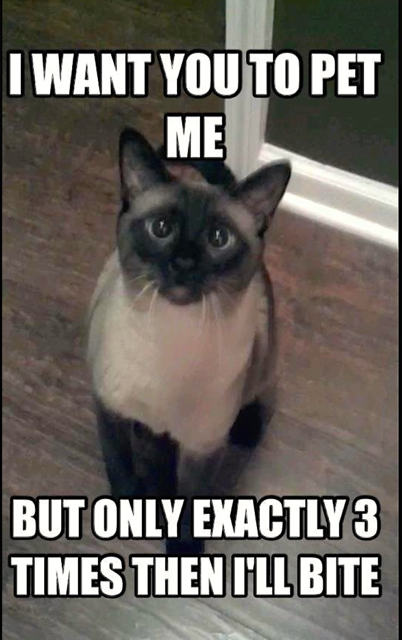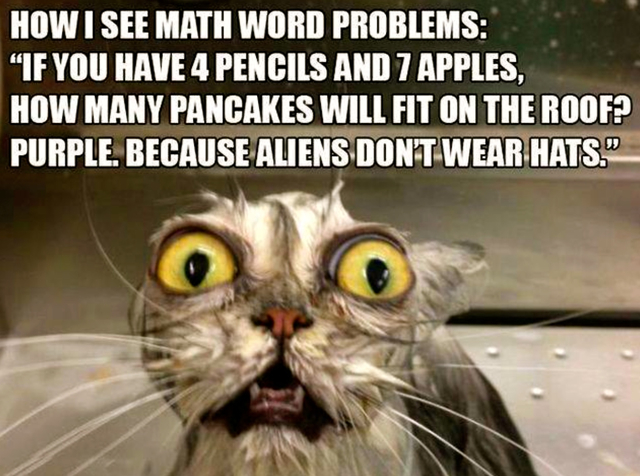 This one is for my sister Liz: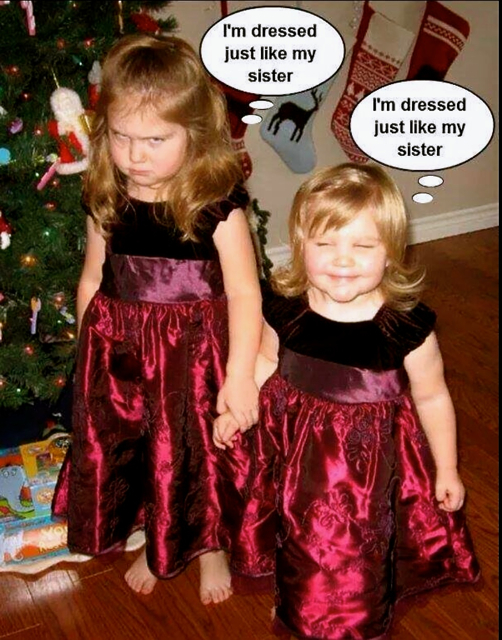 And finally, in anticipation of those holiday meals– we've all been there, right?