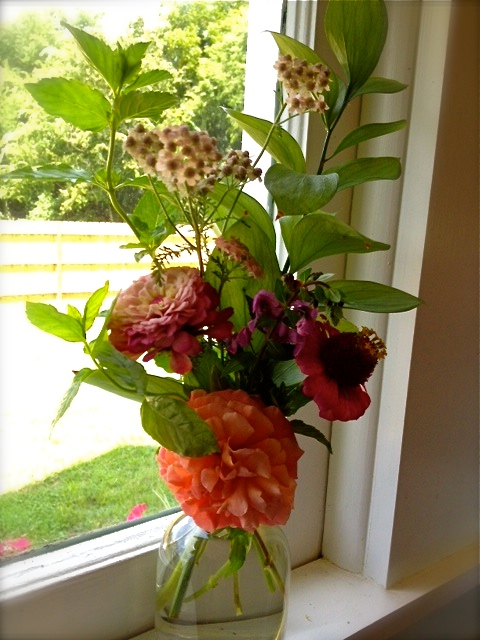 We've been here in the Buckle for over a year now, which seems really strange to me.
Time is doing that thing time does, when it simultaneously feels like we have been here forever and also for about 15 minutes. The "new" has worn off as we've settled into our lives here, but surprisingly the wonder hasn't. I've tried to analyze that, because having grown up in Arkansas and lived for over 30 years in Tennessee, the idea of quaint small towns is not exactly wild, uncharted territory for me. Being the day trip aficionado that I am, I have trekked to many, many of them and not just in the South. But as our beloved poet laureate Maggi has said many times–(it's a shame you can't hear me read this in Maggi's voice, I do a pretty good impression of her)– "There's a magnet in Bell Buckle that draws certain folks here…" She was one of them too, so she knows what she's talking about.
Now in our year+ of living here, I have definitely seen below my town's adorable surface to some of its not-so-perfect aspects. I have seen the down side of small town politics, I know there may be a few people here who are nice to us in person but still eye us with slight suspicion in private, our water bills are slightly higher than in Brentwood, blah di blah blah. But honestly? I really had to stop and think hard just then to come up with three things that were less than wonderful here! I guess the truth is, a year later I am still completely enamored of Bell Buckle and its people, and I feel so blessed and lucky to live here. A smile still spreads across my face every single time I make that little jig-jog of a turn on Hwy 269 and drive through that verdant green tunnel of trees flanked by rolling Tennessee pastures and hills as I make my way home. This has most definitely become, above all things, our home.
Part of the fun of living here has been showing Bell Buckle off to visiting friends and family. In the past year we have been visited twice by my sister Carolyn and her husband David (who are actually well on their way to becoming honorary citizens), as well as my brother Matt and his wife Carol, our beloved Momma Lloyd with Beth, Alyson Rabren, my nephew Daniel, and my nephew Andrew with his parter Gordon, Russ' producer from the Faroe Islands Jakup Zachariasson and his daughter Herborg, old friends from Hot Springs like Terri Brooks and Ken and Leslie Eichler, my editor Roberta and Annie, Connie Lowry King with her road-tripping buddy, Charles and Rebecca Dorris, John Birdwell, Rusty and Lynn Waggoner, my rocking' Calla Lily girls Bonnie, Rebecca and Yolanda, Regie Hamm, Chuck Cannon and Lari White. (Please forgive me if I've made any glaring omissions– I'm operating on only one cup of coffee.) Madi and Charlotte have had friends come down, too– Cody, Allyson, Ciara, Eric and Jess have all put in some porch sitting' time.
One of my favorite things to do when folks come to visit, weather and time permitting, is to take a leisurely walk around Bell Buckle. We have a loop that we like to make, which takes us though the neighborhood– we hang a left out of our yard, go up the street, cut over close to Webb School, then down past the cafe and all the little shops in the depot square, and back to the house. Thanks to Kimi, my dear friend/fellow writer/unofficial town historian, I know a little bit about so many of the places we walk by. I can point out the beautiful Queen Anne Victorian that sits empty most of the year, but will probably never be up for sale because the family wants to hang on to it. I know where the guy who has been known to offer you a drink of moonshine when you walk by lives. And then there's the house where a woman may or may not have been murdered… As Maggi says, "William Faulkner would have killed for a community with the kind of characters we have here!"
But no walk is complete without swinging by Annie's house. It sits proudly on a corner a couple of blocks up from the square, and is probably the most photographed house in town. In true Bell Buckle tradition, her wraparound porch is as fully decorated as a living room with furniture, plants, art and quilts. I have mentioned Annie's house before, because of its magnificently extravagant flower gardens and the wonderfully offhanded way she told me right after we moved that she keeps a pair scissors just inside her gate, so I should feel free to come by and cut a bouquet whenever I wanted. I have often said that alone was reason enough to move to Bell Buckle! Annie is very casual about it, saying, "Take all you want, it saves me the trouble of having to dead-head them." I have taken full advantage of her kindness, and throughout the spring, summer and well into fall my house is decorated with the bounty of her well-tended yard. In fact, right this minute from my current vantage point in the parlor I can see a few "Annie's yard" flower arrangements–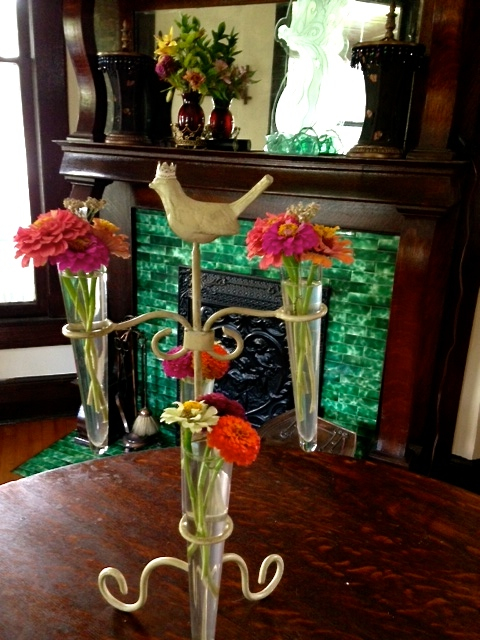 Our new favorite way to pick is during what we call 'our evening constitutional.' Sometimes, after the dinner dishes are done, one Taff or another will grab our new ultra-cool flashlight (a gift from Greg, the owner of the Bell Buckle Cafe) which casts a wide beam of light just perfect for night-time neighborhood strolling. We bring along our own scissors now, as well as a plastic milk jug with a cut-out opening and several inches of water at the bottom. Annie has full-time help tending her flowers, and there's an ever-changing array of different things blooming almost every week. Though we have standing permission to come inside the gate, during our night time forays we just stick to what we can reach from the sidewalk and along the fence line– I don't want to strain our friendship by startling Annie with a flashlight beam through her bedroom window while we ramble around her yard! I'm careful to only clip a sampling of flowers, never taking too many from any one place or cutting the very first blooms of any one kind. I restrained myself admirably during tulip season– she had beautiful ones, but they looked so pretty in her yard, and they bloom for such a short time. I also restrict myself to only ONE sunflower per visit, because I know the birds enjoy them even more than I do. I always walk home feeling just like I did when I was a kid coming back from a visit to the public library carrying an armload of books– RICH RICH RICH!
A year later,  I am still touched by the generosity of Annie's simple invitation.  It's just sort of a metaphor for everything I love about living here.
Bell Buckle is a gift.
**********************************************************
And now, under the guise of Wordless Wednesday, here are some random photos from the last couple of (computer-less) weeks, and beyond:
**Porch sittin' area #1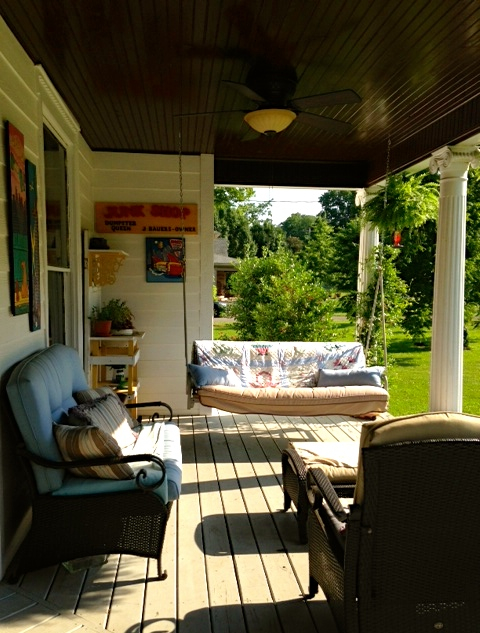 **Porch sittin' area #2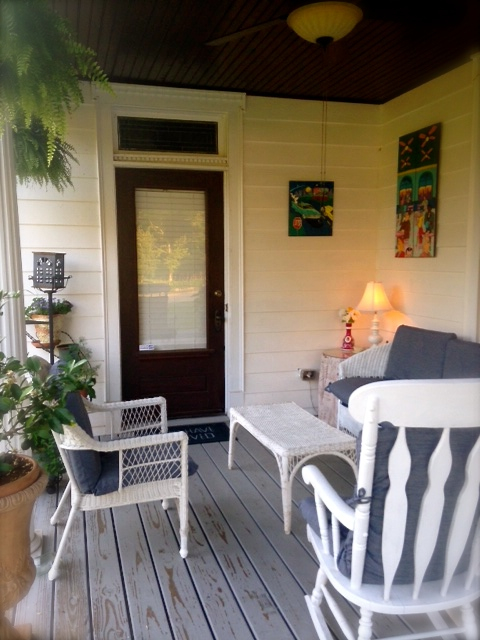 **Past and present Moon Pie Queens before the parade: On this, the 20th Moon Pie Festival, I graciously passed the crown back to the original Queen, Florence Hall. OK, somewhat graciously.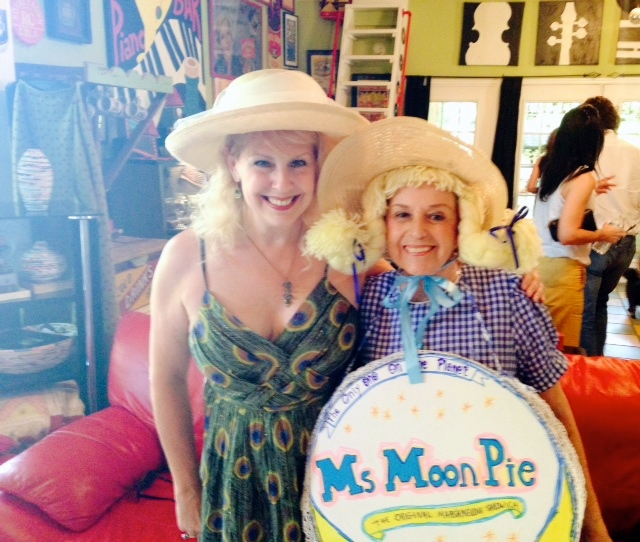 ** Road trip with Madi to Georgia– we randomly saw a sign for "Babyland", and decided to check it out–this place actually exists–and it's kinda scary.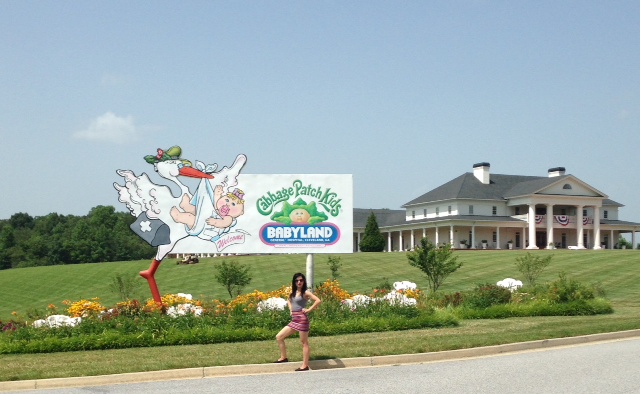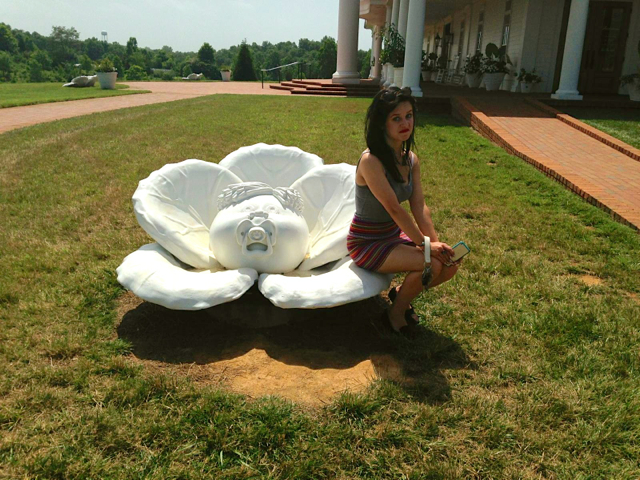 **They take their jobs seriously around here…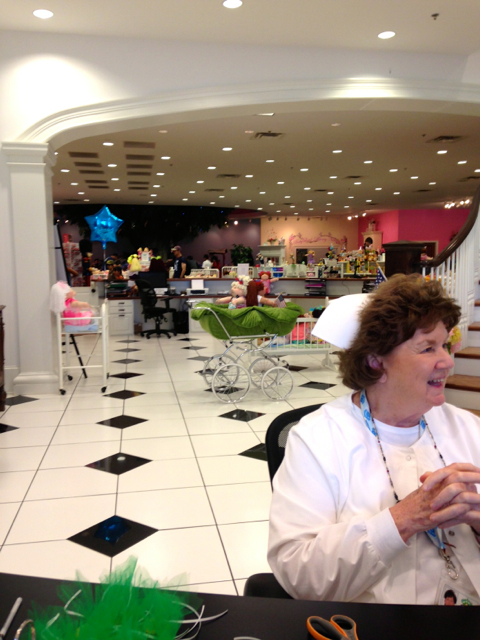 **I'm not even kidding.
**So then this happened: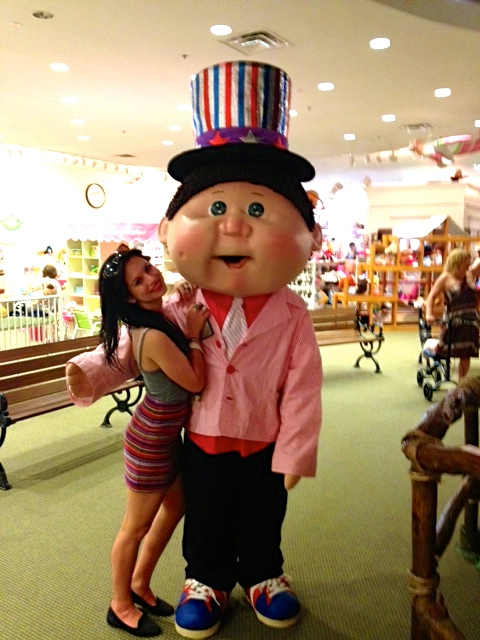 **And then I finally snapped–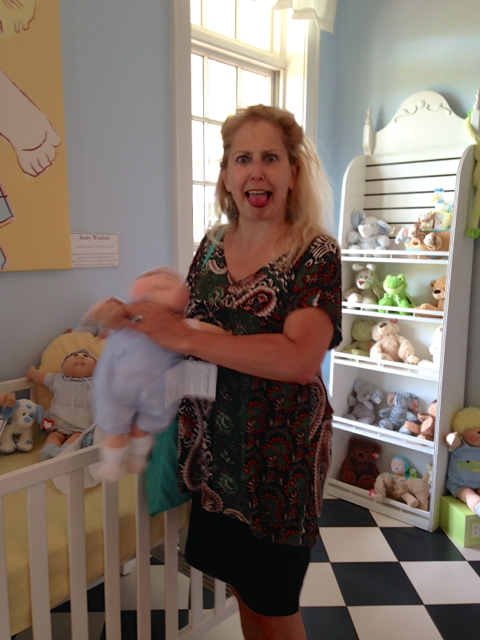 **So we left.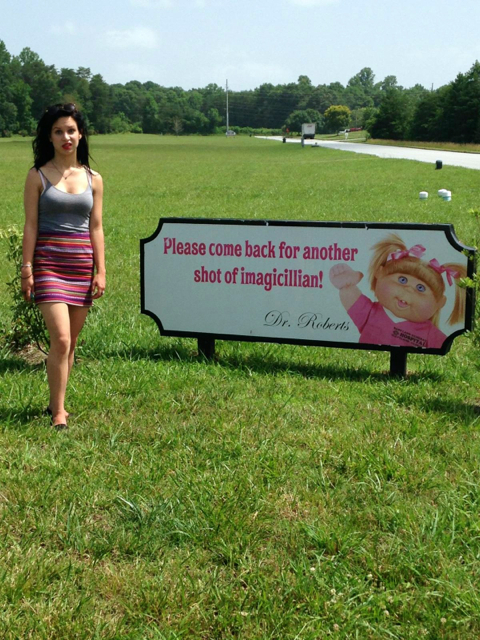 **Charlotte enjoying our first Bell Buckle 4th of July (last year we got rained out):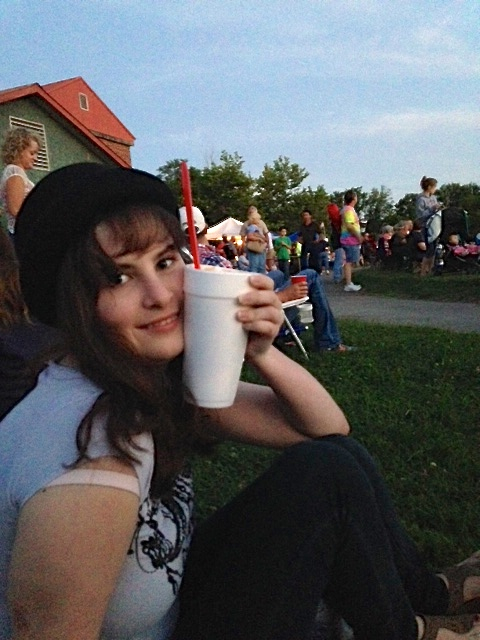 **Here's a short clip from the International Folk Festival held at the Bell Buckle Banquet Hall in June– such a fun evening! These are the Mexican dancers, complete with a dashing mariachi band. (Very "Three Amigos.")

**And finally–our new welcome mat, which kind of sums it all up for me: