"Ya'll come see me."
That's what Maggi says at the end of almost every conversation I have ever had with her. It always makes me feel special and singled-out, though I know that is probably her standard form of goodbye to everyone. But I also know that it's not just a social nicety– she means it. I have an open invitation to spend time with the poet laureate of Tennessee, the true Queen of Bell Buckle, our own Margaret Britton Vaughn.
Before I go any farther, read this excerpt from a newspaper article about her a few years ago– it will give you a little bit of her background:
According to an interview with Bell Buckle Alderperson Jenny Hunt, Vaughn's story began in Tennessee: Murfreesboro, in fact, where Vaughn's father was a firefighter. He was killed in a fire when Vaughn was 9 months old. Three months after her father's death, Vaughn's brother was born and it wasn't too long after that when their mother remarried and the family moved to Gulfport, Miss., where Vaughn grew up.
Vaughn's successful writing career bloomed at a very early age and she recalls writing even as a little girl growing up in Mississippi. Vaughn's education began at Perkingston Junior College and then she transferred to Mississippi Southern where she "failed Biology 10 times."
While living in Mississippi, Vaughn worked for the Daily Herald in Gulfport, earning the opportunity to become the first woman in an outside sales position for a Mississippi newspaper. She finally earned a B.S. degree at Middle Tennessee State University. 
Vaughn moved to Nashville her first year following college and started writing songs for the Wilmer Brothers. Soon afterwards, Vaughn and country music legend Loretta Lynn began writing songs together with the star recording several. Vaughn and Lynn still meet and write songs or just spend time together.
Vaughn's best reflection is of a recording she made in 1961 while overseeing an exclusive woman's clothing store. While working, Vaughn wrote 12 recitations about mamas for Minnie Pearl and Lynn. Several became big hits for Lynn, but the original tapes somehow were lost.
The tapes contained Vaughn's voice with Betty Jean Robinson and Lorraine Mann as background during the recording session. A saxophone player had been recording before Vaughn's session and offered to stay and play for free just to be a part of the event. When the tapes resurfaced in the early 2000's, Andy Landis took them to Tennessee Arts Council where she received a grant to publish the tapes as a document of historical significance.
Vaughn has gone on to write tunes for other country greats such as Ernest Tubb, Conway Twitty, Charlie Louvin, and Peggy Sue just to name a few.
Vaughn's "discovery" began in 1975 when Minnie Pearl sent some of Vaughn's writings to the Grand Ole Opry. Later that same year, The Tennessean published Vaughn's "50 Years of Saturday Nights," a book about the 50th anniversary of the Opry. The book was later updated to Grand Ole Saturday nights.
Vaughn has written 12 books and was appointed Poet Laureate of Tennessee in 1989 by Gov. Ned McWhorter. Vaughn is quick to point out that the Tennessee House of Representatives makes the appointment for life, however, the Tennessee State Senate has to vote to renew her appointment every 5 years.
Vaughn also wrote the inaugural poem at Gov. Don Sundquist's inauguration and Gov. Phil Bredesen had one of her poems printed in his inauguration program. As Sundquist was leaving office, he selected Vaughn as one of the handful to receive his designated "Outstanding Tennessean Award". Another one of the highlights of Vaughn's career was writing Tennessee's Bicentennial poem and being recognized on the Tennessee Bicentennial coin.
Vaughn thinks her greatest personal accomplishment was being selected as the only poet to receive the Mark Twain Fellowship from Elmira College, where Twain spent 20 summers writing some of his major works. During the Fellowship program, Vaughn wrote Foretasting Heaven.
While living in the same house Twain had stayed, Vaughn pretended as if Twain were there with her. Her writings evolved from there. Vaughn returns to Elmira frequently to speak and read her poems.
Vaughn's books are taught at colleges and universities around the world and, at the re-opening of Thomas Wolfe's boarding house, Vaughn was invited to write the official poem for the historic event.
Of all the memories, Vaughn notes her ability to reach out and affect students. While visiting Buffalo State, Vaughn substituted at the last minute for a sick professor. She read two poems about the Vietnam Wall and followed the lesson by playing George Jones' "50,000 Names on the Wall." The students loved it.
Vaughn's love for writing and country music are evident in all aspects of her life
"You know," she says, "Country music is the best poetry ever written. It tells it like it is. It's life."
© Copyright 2007 Shelbyville Times-Gazette. All rights reserved. 
 I met Maggi about 30 years ago. I was on one of my twice-yearly day trips down to Bell Buckle, and I was wandering around an antique mall/folk art gallery she owned at the time. We began to talk, and I instantly fell in love. Maggi is a true Southern character, a complete original– tender and tough, literate, funny , opinionated and generous. When she noticed that I was drawn to the work of an artist named Norris Hall, she promptly shut down the store and walked me over to her little apartment in the back of a shop on the square to show me some furniture he had painted for her. She pressed Norris' business card into my hand and made me promise I would call him. I thanked Maggi profusely, then did exactly that.  He ended up painting scenes on all of the cabinet doors in my kitchen on Hillside Drive, which turned that room into an extremely colorful instant art gallery.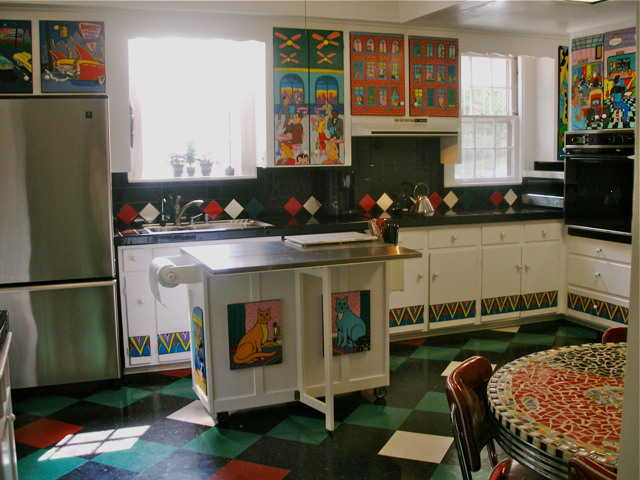 Madi Rose and Charlotte grew up surrounded by with those images, and they are an important part of their earliest childhood memories. When we moved to Brentwood, it nearly KILLED me to leave them behind. We did communicate through our realtor with the new owners of the house, saying  that if they ever decided to re-do the kitchen, we would love to have our doors back– though frankly, I didn't think there was a snowball's chance that would ever happen. But halle-stinkin'-lujah, a couple of years after we moved the new owners did a total renovation and graciously gave us back our Norris Hall doors. They hung proudly on a gallery wall in the dining room of our Brentwood house for 7 years…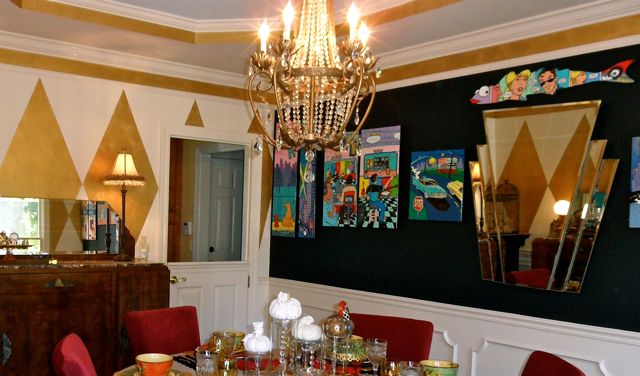 …Until we had to "beige up" the house for resale. At my realtor's suggestion they were lovingly packed away because apparently all that awesomeness was distracting potential buyers– they were too busy looking at the art to pay attention to the house.
And now, fast forward, they are back home in Bell Buckle where it all began. (Here's just a couple of them, now securely mounted and displayed on my front porch– I'm adding more soon!)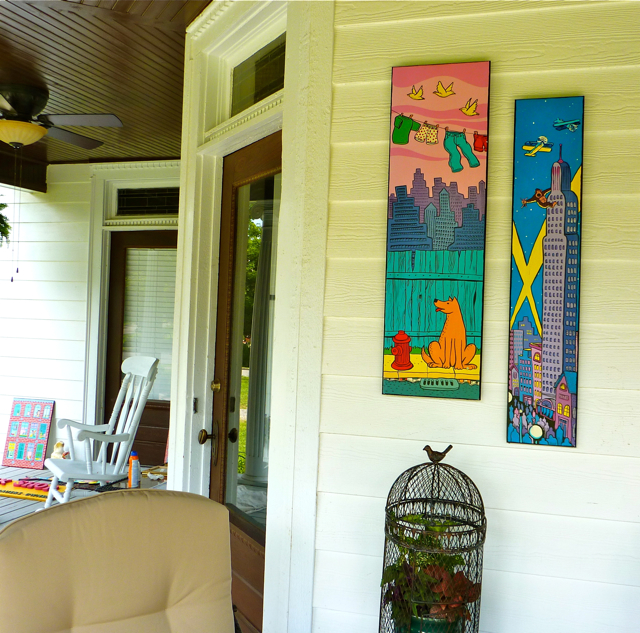 And though I might have only crossed paths with Maggi maybe once in the 30 years since I first met her, when we saw each other again after I moved here, her first words after she hugged my neck were, "Did you bring the Norris Hall pieces with you?"
You see, Maggi can't live without art  and color in her life. Her house and writing studio are a living testament to that– her eclectic collection of art from all different mediums covers about every square inch of her living and working space, including the ceiling. Here are a few photos a fascinating man in his own right named Walter Skold , founder of the Dead Poets Society of America, took a couple of years ago:
After only living here a few months, I have already accrued an amazing amount of Maggi stories. Despite (or perhaps because of) her, shall we say, 'frankness' in expressing her opinions, I feel safe in saying that Maggi is pretty much universally loved in this town. Her fierce devotion to and promotion of the arts in Bell Buckle are so very much appreciated, and she is generally treated like the national treasure she is around here. I wanted to introduce her to you guys because she is most definitely one of the ongoing characters in this new story we seem to be writing for ourselves here in Bell Buckle. And it never fails to make me feel lucky when I finish a good visit with Maggi and she says by way of goodbye, "Come see me!"
She ends with an invitation, much like a preacher does, except instead of inviting us to ask Jesus into our hearts, Maggi is inviting us into her life– to swap stories, talk and listen, laugh loudly and even learn a thing or two.
Here she is in 2011 reading a poem she wrote about her father: